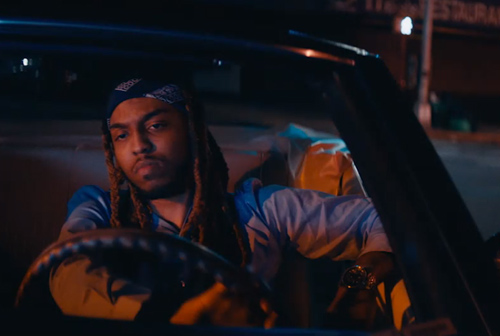 Look at Courtlin Jabrae out here gettin' it!
The up-and-coming artist/producer has been a regular on the site since last year, but now the Illinois native lands his first music video premiere with BET Jams. Dropping the visuals for his vibey 2015 song "That Way," the singer/rapper rides through the city at night, while a dangerous cinematic tale is unfolding. Over the Ginuwine "So Anxious" sampled track he also borrows from '90s classic "Swing My Way" by K.P. & Envy, singing out, "Girl I'll swing that way, whenever my time is free / Girl you know me, I'll swing that way…Girl I'll swing that way."
Jabrae's songwriting skills led to placements with Gucci Mane and T-Pain. Additionally, collaborating with mentor Troy Taylor, Jabrae has also written for Trey Songz. His hypnotic mash-up of contemporary R&B and hip-hop melodies and beats inlaid with the authentic vibe of '90s soul, has garnered online and social media buzz, and the emerging eOne Music singer/rapper/songwriter/producer is popping up on many one-to-watch lists.
Jabrae may be familiar to well-versed music fans, who will remember his initial foray as an artist—one-half of the duo Pop It Off Boyz. The group's 2007 track "Crank Dat Batman" became a viral hit when countless fans made videos of themselves dancing to the song. Tasting early success, the duo signed a development deal with Universal Motown a year later. The pair eventually split up and reunited in 2012 before Lil Action died in a 2014 car accident. In 2015, Courtlin stepped back out with the first of several incredible solo tracks that led to his signing with eOne Music and is scheduled to release a new album this fall.
"A lot of artists bring love and then don't bring the soul," he explains. "Or they bring the soul and not the mind. I'm bringing love, mind and soul; all in one."
Check out "That Way" below.