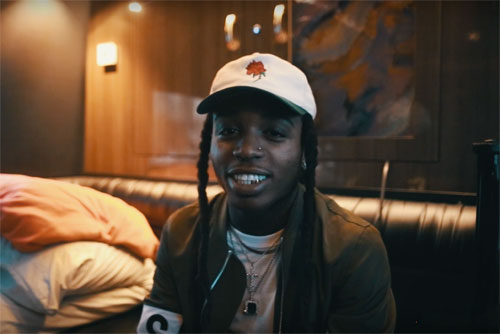 R&B prince, Jacquees, has been setting the mood across the nation headlining his very own tour. The Cash Money artist has achieved unbelievable success since signing to the label and now gets the chance to perform for thousands of screaming, die hard fans during his "MOOD Tour."
The Rich Gang member is documenting the journey on his city-to-city trek with the MOOD Tour Vlog. During the visual series, we will witness footage from his ground breaking performances, engagements with fans, and hilarious tour bus moments with the team on every episode.
In part 1, Jacquees gets personal with the camera sharing the excitement of being on his very own national tour, talking about the experience with Baby via FaceTime, and testimonials from the whole crew about who is the most annoying person on the tour bus.
Watch episode 1 of Jacquees' "MOOD Tour" diary below.
JACQUEES' UPCOMING TOUR DATES:
May 20 – The Hangar – Miami, FL
May 21 – Backbooth – Orlando, FL
June 18 – The Loft – Dallas, TX
June 19 – The Studio At Warehouse Live – Houston, TX
June 22 – The Rialto Theatre – Tucson, AZ
June 23 – Monarch Theatre – Phoenix, AZ
June 24 – The North Park Theatre – San Diego, CA
June 25 – The Roxy Theatre – West Hollywood, CA
June 27 – The Observatory – Santa Ana, CA
June 29 – The New Parish – Oakland, CA
June 30 – The Catalyst – Santat Cruz, CA
July 1 – Harlow's Restaurant and Nightclub
July 2 – Peter's Room – Portland, OR
July 3 – Neumos – Seattle, WA
Aug 31 – Chesapeak Energy Arena – Oklahoma City, OK
Sep 6 – The LA Forum – Los Angeles, CA