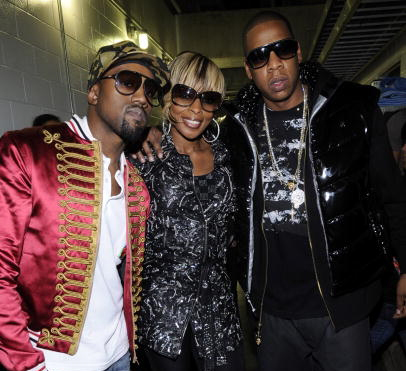 Mary J. Blige and Kanye West have cooked up a collabo, which the R&B icon says will make us "flip." The much-anticipated record is off MJB's next album, but she isn't ready to reveal the title.
"I don't want to give up the name of the song yet, but the album is mostly complete," the Queen of Hip-Hop Soul told The Hollywood Reporter. "But I absolutely got a chance to work with the great Kanye West. And the song is crazy—I can't wait for people to hear it."
Although the song title is still private, Mary opened up about what her first Yeezy collaboration sounds like in the Q&A.

"The flavor of the track starts off with piano keys," she said. "It's very dramatic in the beginning and it goes into a loud horn. That is, like an old sample horn. And then this gigantic beat kicks in and I sing. He rhymes after my two verses. It's incredible. He kills it. I wish I could give you the title, you'd flip but I just can't do it yet."
Late last month, Blige's A&R Eddie Fourcell revealed that Yeezy was working with Mary on the follow-up to 2014's The London Sessions, due later this summer. Other collaborators include Hit-Boy, DJ Camper, B.A.M., and Jazmine Sullivan.
Mary is also set to star alongside Carey Mulligan and Garrett Hedlund in Dee Rees' indie drama Mudbound.