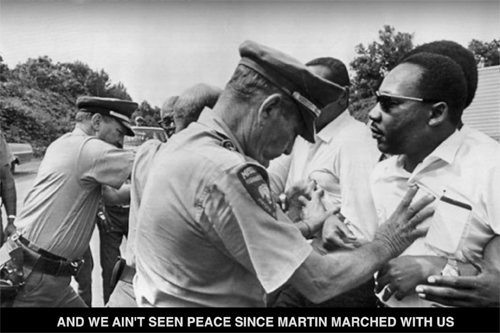 V. Bozeman may still be working on her as-yet-untitled EP, but for now, she, too, is joining the masses of musicians speaking out about the world around us. The singer took to YouTube to reveal a visual for her recently released song, "Dear Officer," featuring Young Life.
Directed by Stephen Garrett, the video relies on images of the past and present – shots of the civil rights movement of the '50s and '60s play in a montage alongside images from present-day protests, as V's voice shares exasperation and poses the toughest of questions. "When did white sheets become uniforms? Am I hated simply cuz the way I was born?" the singer asks. V's song is a conversation of sorts: a dialogue between a police officer and a protester that likely mirrors many conversations had at protests across the country.
The politically charged song and its accompanying visuals remind us that, as much as things have changed, for Black folks in America, much is also the same. Take a look at V. Bozeman's "Dear Officer" visual for yourself below.
–Words by Bradford Howard