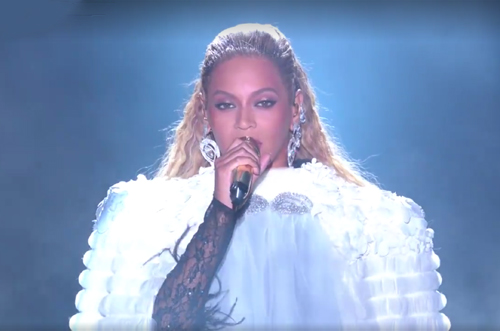 Like everything she ever does, Beyoncé ran the MTV VMAs on Sunday night.
The rumors of her surprise performance came true with an outstanding 15-minute medley of songs off her award-winning album Lemonade, which already nabbed the Breakthrough Long-Form Video Award earlier in the night.
Tennis star Serena Williams introduced Bey, giving her the highest praise. "She dropped an earth-shaking visual album with an appearance by yours truly," she said, referring to her cameo in "Sorry." "Give it up to my friend, Beyoncé!"
Emerging in a full length white coat draped down her body, she opened with "Pray You Catch Me," but quickly switched up the somber mood and her outfit for "Hold Up." As she made her way through the audience, she grabbed a bat and went off on the camera, smacking it and cracking the lens. Blue and red lights flashed across her face as she finally transitioned to "Sorry," where she manned the stage, grinding with a big smile across her face.
Bey wrapped it up by putting a red-splotched Dalmatian fur around herself for "Don't Hurt Yourself," where she spun the camera around and headed to the main stage where fireworks and smoke crashed all around her. She capped off the epic performance with the song that started it all, "Formation," while a line-dance of black-clad dancers did synchronized moves on the floor, ending up in the shape of a female gender symbol.
Watch Queen Bey's mini concert below!