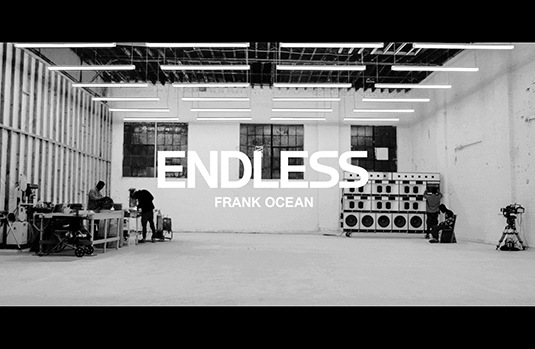 Surprise! Early Friday morning, Frank Ocean gave fans the first taste of new music since 2012's channel ORANGE. Released as a live stream on his website BoysDontCry.co the singer-songwriter debuted a visual album titled 'Endless.'
The video included footage of Ocean building a spiral staircase in a warehouse. The audio can be heard playing in the background over the sound of drills and construction.
Soon after the stream ended, the nearly 46-minute visual album, entitled Endless, debuted in its entirety on Apple Music. It features 18 tracks, with contributions from Jazmine Sullivan, James Blake, Sampha, and TROY NōKA. Ocean's rendition of The Isley Brothers' "At Your Best (You Are Love)," which Aaliyah famously covered, is also included.
There might be more on the way as well.
According to Rolling Stone, Endless is a different project from Boys Don't Cry. Reports claim that Apple has plans to release that album this weekend.
"ENDLESS"
A film by Frank Ocean.
Now on Apple Music. #ENDLESShttps://t.co/IKMm2PNsUH pic.twitter.com/nlLxXoQ296

— Apple Music (@AppleMusic) August 19, 2016
Apple says a Frank Ocean "visual album" called "Endless" will be out at midnight, "keep an eye out this weekend for more from Frank"

— Joe Coscarelli (@joecoscarelli) August 19, 2016
ENDLESS TRACKLIST:
01. Device Control
02. At Your Best (You Are Love)
03. Alabama
04. Mine
05. U-N-I-T-Y
06. Ambience 001: In a Certain Way
07. Commes Des Garcons
08. Ambience 002: Honeybaby
09. Wither
10. Hublots
11. In Here Somewhere
12. Slide on Me
13. Sideways
14. Florida
15. Deathwish (ASR)
16. Rushes
17. Rushes To
18. Higgs