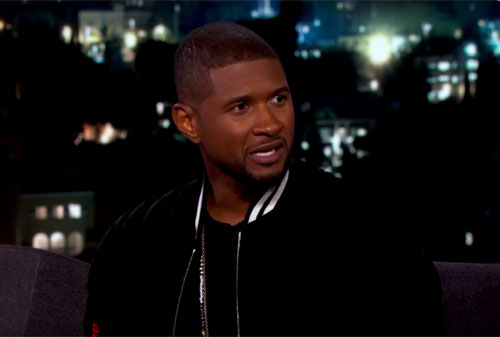 With Hands of Stone hitting theaters today, Usher made an appearance on "Jimmy Kimmel Live" on Thursday night.
Along with promoting the movie, the R&B star officially announced the title of his eighth studio album, Hard II Love, and confirmed it is coming out Sept. 16. Last night, he also dropped two new songs, the bass-heavy single "Missin U," and "Champions," which originated from the soundtrack to Hands of Stone.
During his chat with Jimmy, the singer/actor spoke about portraying boxing legend Sugar Ray Leonard in the film, and hoping he would get his approval of a sex scene during the movie premiere. Usher also showed off his jump roping abilities for the studio audience, and talked about celebrating the Cleveland Cavaliers NBA Championship.
Check out Usher's visit with Kimmel below.