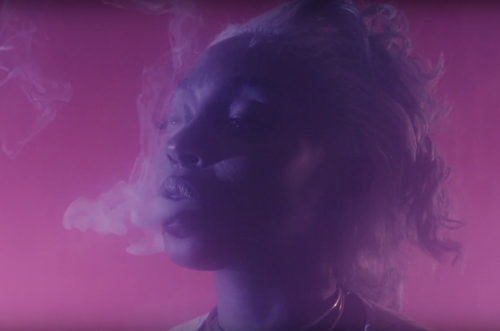 Jade de LaFleur should wear leather all the time.
Ahem. Pardon my thirst. It's just that Jade has finally given her "Shotgun" single – released back in June – a set of visuals, and they were well worth the wait.
The lovely Louisiana-hailing singer gave VIBE the go-ahead to premiere the "Shotgun" music video, opening up to the magazine about the creative process behind it:
"I haven't shared a visual since 'Smoking In My Car' in 2014, and I'm still smokin' in my car lol, so 'Shotgun' is strictly for my stoners," said Jade. "I wanted the visual and aural effects of the video to parallel the song, and stay true to its authentic infectious mashup of culture and raw euphoric expectations."
The Jordan Riggs-directed video certainly pays homage as much to smokers as it does lovers, with Jade exhaling clouds of smoke and even rolling up rose petals in between colorful shots of her dancing and clapping along to "Shotgun's" island-tinged groove. Much like the actual song, the video fluctuates and shifts in mood, constantly changing colors, employing a fog filter, and even going psychedelic over its three-minute length.
Catch Jade de LaFleur's high by watching the "Shotgun" video down below. The PsychoPop EP, Jade's long-awaited follow-up to her Jaded EP, is due out later this fall.
–Words by Bradford Howard