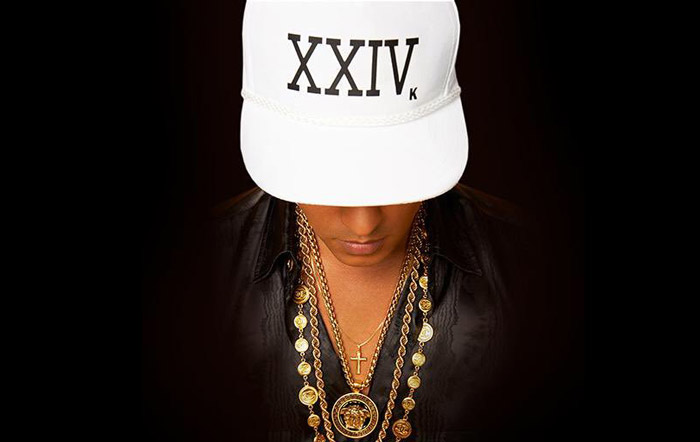 Bruno Mars is getting ready to return with a shiny new single.
The pop superstar has announced on social media that he will be releasing a brand new single titled, "24k Magic" (pronounced twenty-four karat magic) on Friday, October 7.
The record is the first official single off Bruno's anticipated third studio album, which is coming soon.
"Excited to announce '24k Magic,' out this Friday," Bruno wrote on Instagram. "You can call it my first single, but I call it the invitation to the party."
Fans have been asking Bruno for new music for quite some time. On Sunday (Oct. 2), the singer teased supporters on Twitter. "You think I've been playin this whole time?" he tweeted. "You don't think I'm masterminding the return?"
News about the album has been bubbling all year. In April, Bruno hit the studio with Missy Elliott and in June, he collaborated with Skrillex. While an official release date has not been announced, insiders claim that the album is due in November.
"I'm on a mission. I'm Obsessed to make an album I'm genuinely proud of," Bruno told his fans earlier this year. "Stick with me Hooligans. I'll get there."
Coming this Friday to a speaker near you. #24kMagic pic.twitter.com/H6AnzWeuVn

— Bruno Mars (@BrunoMars) October 3, 2016
MY ALBUM IS DONE!

— Bruno Mars (@BrunoMars) October 3, 2016
I'm on a mission. I'm Obsessed to make an album I'm genuinely proud of. Stick with me Hooligans. I'll get there. Love Brunz

— Bruno Mars (@BrunoMars) January 10, 2016