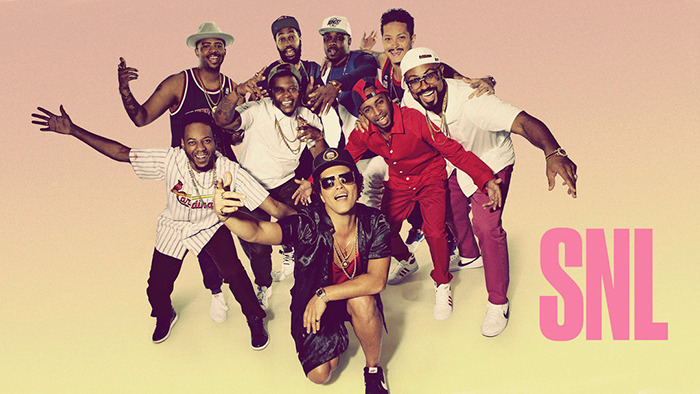 Pop pop, it's showtime!!
Bruno Mars returned to "SNL" for the fourth time on Saturday night to deliver two electrifying performances.
First up, the platinum hitmaker performed his funky hit single "24K Magic." Emerging from backstage, a swagged-out Bruno and his fellow players danced through the studio. Surrounded by pretty girls, Bruno continued showing off his fancy footwork while making his way to the stage to cap off the feel-good set.
For his second performance of the evening, the Grammy-winning crooner debuted a brand new song called "Chunky," an ode to the independent—and thick—women. While sliding across the stage, he serenaded the ladies with the "big ol' hoops."
"She gotta have her own money / Shout out to the girls that pay their rent on time," sang Bruno. "Chunky, looking for the girls with the big ol' hoops / That drop it down in Daisy Dukes."
Mars' show-stopping performances come just ahead of 24K Magic, Bruno's first album in four years, due Nov. 18.
Get 'so player' with Bruno and the crew below.