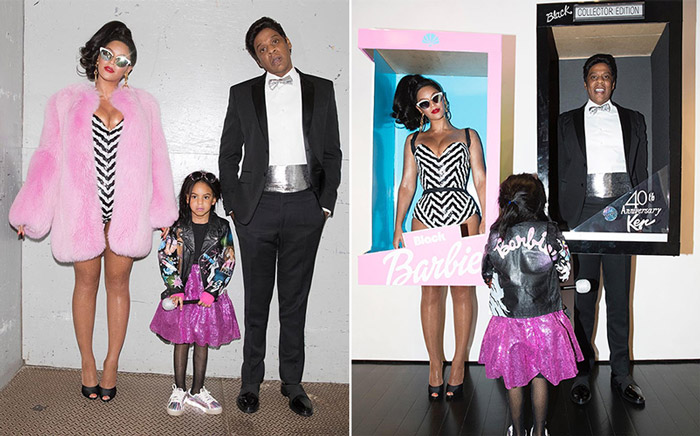 Trick or treat? The stars proved you're never too old to dress up for Halloween, donning an array of spooky, cute, and downright dirrty costumes.
Families and couples ruled this year, even if some of them weren't exactly fright-filled. Beyoncé, Jay Z, and Blue Ivy proved that with a Bar-Bey family, complete with toy boxes and Hov's Ken hair. Going for a Star Wars theme, Big Sean donned a Stormtrooper outfit as Finn while Jhené Aiko dressed as Rey. Ciara and Russell Wilson went for a more presidential look. The newlyweds danced to "Juju on That Beat" while dressed as President Barack Obama and Democratic nominee Hillary Clinton.
Justin Timberlake and Jessica Biel went trick-or-treating as Trolls with their son Silas. Tamar and Vince went out as Thing 1 and Thing 2, with their Logan leading the way as Dr. Seuss. The couple also dressed as a peanut butter and jelly sandwich while Logan's second costume was a little dino. Alicia Keys' sons Egypt and Genesis were Harry Potter and Batman, and Monica and her squad brought a Beetlejuice resurrection.
Elsewhere, Chris Brown was a movie-ready Deadpool, Kehlani was Pulp Fiction's Mia Wallace, Trey Songz was Snoop Dogg, and Kelly Rowland her her husband Tim Witherspoon were Run DMC.
See all the fun and scary costumes below.