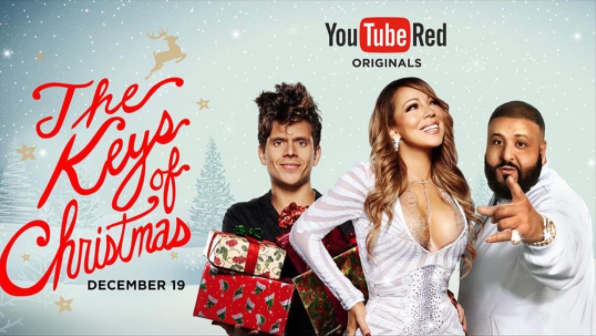 Mariah Carey, DJ Khaled, and Ciara are joining forces in "The Keys of Christmas," a holiday special for YouTube Red, which is set to air Dec. 19.
Featuring performances by Fifth Harmony as well as the aforementioned acts, "The Keys of Christmas" will follow comedian Rudy Mancuso on a "magical adventure of the true meaning of Christmas," according to Variety.
Mancuso, who has 1 million subscribers on YouTube, will lead the picture, which will also include appearances by Nicky Jam, Bebe Rexha, Mike Tyson, and Boyce Avenue.
"Fan luv DEC 19 I'll be starring in the new movie THE KEYS OF XMAS ! Along side @mariahcarey and many more," Khaled wrote on Instagram.
Famed music video director Dave Meyers, known for his work with Missy Elliott, Rihanna, and Katy Perry, will be directing "The Keys" special.
"Music is wildly popular on YouTube," said Ben Relles, YouTube's head of unscripted originals. "And we're excited to bring together some of the biggest names in music alongside some of the biggest stars on YouTube."
The subscription-based YouTube Red features a variety of shows with major YouTube stars, including Lilly Singh, PewDiePie, and more.