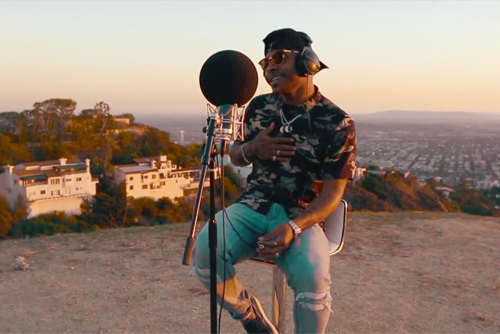 Following his acoustic cover of "Fake Love," Eric Bellinger keeps the holiday gifts coming for fans with a new performance video.
Opting for a different location than most, the R&B singer/songwriter brings a mic stand and stool to the top of the Hollywood Hills that overlook Los Angeles, to deliver his cover of Rae Sremmurd's "Black Beatles."
Ad-libbing some of his own lines at the end, Eric sings: "Who else got the voice and the swag like me? / Who else can live in they bag like me? / Who work a pen and a pad like me? / I'll wait…"
"With lyrics like Swae's 'cream seats in the Regal / Rockin John Lennon lenses' line, I was super hype to take this song to the next level," says Bellinger. "I look at doing covers like that old MTV show 'Pimp My Ride' where they would lace someone's car – this is like 'Pimp My Song.' I'm adding all kinds of stuff and messing around with the tempo, the beat, and melodies etc. I really enjoy giving people a different version of a song that they already love."
Last week, Eric Bellinger released his new holiday song, "Sex for Christmas," and he is currently working on Eric B. for President: Term 2, due out in early 2017.
Check out his "Black Beatles" cover below.