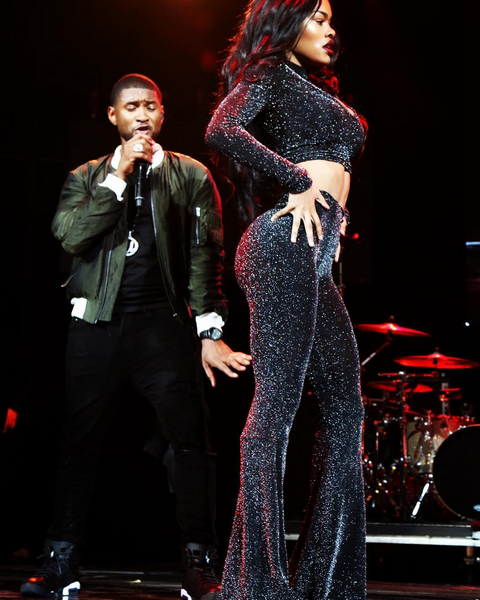 Usher had New York and New Jersey getting in the holiday spirit with his performance at Hot 97's "Hot For The Holidays Concert" on Saturday (Dec . 3) night.
Held in New Jersey at the Prudential Center, the R&B superstar tore up the stage with his hit-filled set list that included "Good Kisser," "Caught Up," "U Don't Have To Call," "Missin U," "U Got It Bad," "Burn" and more.
Usher had a surprise in store for the crowd during "Bad Girl," where he invited Teyana Taylor to join him on stage and show off some sexy moves. The two enjoyed each others company, dancing and grindin across the stage as the audience cheered them on.
"Truly a dream come true! To be able to hit the stage with not only a genuine friend but a legend I respect soooo much and has truly learned a lot from," wrote Teyana on Instagram. "He has brought something so special to the industry. Y'all don't understand @usher live in Puerto Rico march 5th 2005 I was 14 or 15 dancing around the house to this SAME song like I was Beyoncé 😩😩😩😭😭😭😭😭 u couldn't tell me nothing!!! Lol and now I'm actually gracing the stage with him! Thank you so much for believing in me, always believing in me since I was a young buck, and showing me they ropes man!! Thank you! A day I will never forget!!"
Check it out below, along with footage of Usher's full performance.
Full Performance
Shout to YeahImFamous