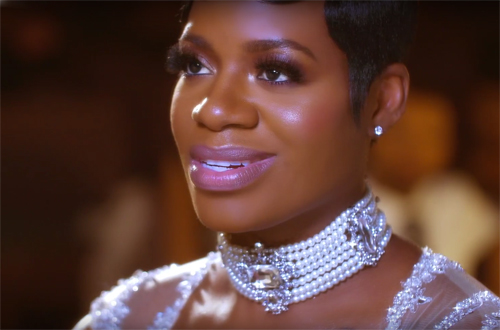 Fantasia dazzles on our screens today with the release of her romantic music video for "When I Met You," off her stellar 2016 album The Definition Of…
Taking a trip down memory lane, the powerhouse vocalist recruits her daughter to play her teenage self through the stages of high school love. Set in her childhood bedroom filled with '90s R&B and Hip Hop music, posters and apparel, the young Tasia falls for a boy hard in school, and throws some shade to her other suitors.
As she gets older, Fantasia's perfect guy betrays her for another woman, but the guy that was really meant for her watches it all go down. The clip later transitions to the present, showcasing a happy Fantasia marrying her husband, Kendall Taylor.
"When I met  you / I never knew, about all the things that we would do / Then I met you / When I met you, I met me too," sings Fantasia.
Fantasia and Kendall said I do, again, on Christmas Day 2016, and it appears that the video was shot during that ceremony.
"I Love You so much that I'd do it over and over and over again! When I met You, I just never knew!! It's almost like I may have known you in another life," Tasia wrote on Instagram. "Like this love has happened before and that's how it works so well between us because we've been here before. So we did it AGAIN!! The right way.. so….Yes I DO #Love."
Check out the video below.