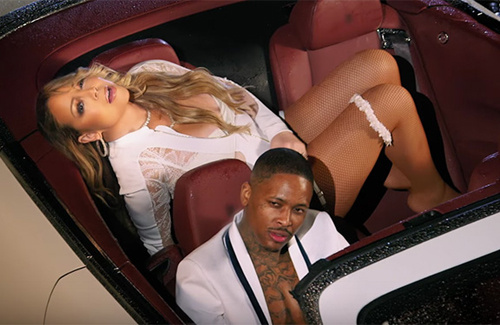 As promised, Mariah Carey has debuted the music video for her brand new single "I Don't" featuring rapper YG.
Inspired by her failed engagement to billionaire James Packer, the visuals open with Mariah in a wedding dress as she runs out of a mansion and into a white Rolls-Royce.
Once there, she strips down to racy white lingerie and drapes herself over the rain-soaked car while YG rides shotgun. The pop superstar also flaunts her assets in an S&M-inspired look while sitting in the back of a black drop-top Phantom.
Produced by Jermaine Dupri and Bryan-Michael Cox, the breakup anthem includes an interpolation of Donell Jones' classic single "Where I Wanna Be" on the chorus. "Cause when you love someone / You just don't treat them bad / You messed up all we had / Now, you think I'm comin' back / But I don't," sings Mariah. "I tried to make it work no matter how much it hurt / You had to make it all about you / Tell me why you gonna do me like you do / I went from me and you, to walking right out on you."
In the final scene, Mariah throws her wedding dress into a bonfire, officially putting an end to the relationship.
Check out the video below.
During a Facebook Live session on Thursday night (Feb. 2), Mariah Carey revealed that she plans to release a series of singles throughout this year and eventually an album. "I'm gonna be doing singles, because it's more fun for me to just write singles and not focus totally on doing one whole album," she said. "It seems like a lot more fun to just sit down, write a single, collaborate."
She also teased a collaboration with her twins, Moroccan and Monroe, as well as a "secret project with a friend." "I'm not gonna say his name, but you'll hear about it soon and we're going to be working on the video soon," she revealed.
Fans can also catch the diva on tour with Lionel Richie, starting March 15 in Baltimore.