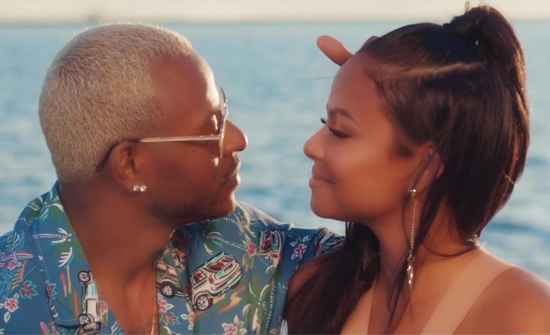 60 years ago his grandfather wrote a hit song about looking for his 'pretty one,' and today Eric Bellinger continues to follow in those footsteps. However courtship has changed, the premise remains, and the R&B hitmaker has scored his prize in the "Make You Mine" video, co-starring Christina Milian.
The second release off his new project, Eric B. for President: Term 2, gets a lavish visual treatment, as Bellinger travels to a scenic ocean overlook in Malibu, and sails through the Pacific in a yacht. Over the pulsating dancehall inspired track, the singer/songwriter attempts to woo the beautiful Milian with much success, as he sings: "Girl, I wanna kiss and caress, say yes / And I know that my lovin' no one contest / And I need a freak, if you a freak, say yes / One wicked and bad, bad girl."
While Eric's love interest in the summery visuals is just a friend in real life, he originally wrote the song with inspiration from wooing his actual wife, La'Myia. "For this song I took it back and shared the chase that I was on when getting my girl," he explained. "My first date with my now wife La'Myia was insane. I went all out. I had been on her for over a decade so I knew I had to make that first impression count."
Eric B. for President: Term 2 is available on all streaming services now. Check out the premiere of the sexy "Make You Mine" video below.