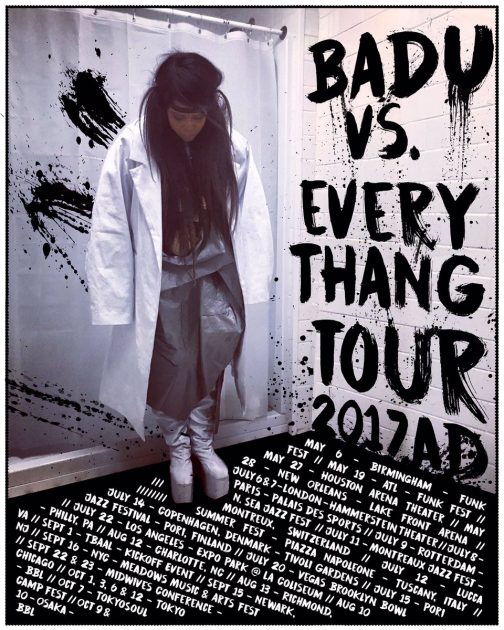 Everything is EverythAng!
Grammy Award-winning songstress Erykah Badu is coming to a city or country near you this summer, on her newly announced "Badu vs. Everythang Tour."
After celebrating the 20th anniversary of her debut album Baduizm this past February, the singer-songwriter will be bringing old and new material to stages across 9 different countries kicking off in Alabama at the Birmingham Funk Fest this coming Saturday (May 6).
The surprise tour is set to make stops at several festivals including FYF Fest on July 22 in Los Angeles, Calif. and Meadows Festival on Sept. 16 in Queens, New York. She'll also be taking her talents abroad for select dates in Paris, London, Italy and Japan.
See the full tour itinerary below.

"BADU VS. EVERYTHANG" TOUR DATES:
May 06 — Birmingham, AL @ Birmingham Funk Fest
May 19 — Atlanta, GA @ Atlanta Funk Fest
May 27 — Houston, TX @ Houston Arena Theater
May 28 — New Orleans, LA @ Lakefront Arena
Jul 06-07 — London, England @ Hammerstein Theater
Jul 08 — Paris, France @ Palais Des Sports
Jul 09 — Rotterdam, Netherlands @ North Sea Jazz Fest
Jul 11 — Montreux, Switzerland @ Montreux Jazz Fest
Jul 12 — Tuscany, Italy @ Lucca Summer Fest
Jul 14 — Copenhagen, Denmark @ Tivoli Gardens
Jul 15 — Pori, Finland @ Pori Jazz Festival
Jul 20 — Las Vegas, NV @ Brooklyn Bowl Las Vegas
Jul 22 — Los Angeles, CA @ Exposition Park
Aug 10 — Philadelphia, PA @ TBA
Aug 12 — Charlotte, NC @ Charlotte Funk Fest
Aug 13 — Richmond, VA @ TBA
Sep 01 — Dallas, TX @ Riverfront Jazz Fest
Sep 15 — Newark, NJ @ TBA
Sep 16 — Queens, NY @ The Meadows Music & Arts Fest
Sep 22-23 — Chicago, IL @ Midwives Conference
Oct 01-03 / 06-12 — Tokyo, Japan @ Billboard Live
Oct 07 — Tokyo, Japan @ Tokyo Soul Camp Fest
Oct 09-10 — Osaka, Japan @ Billboard Live