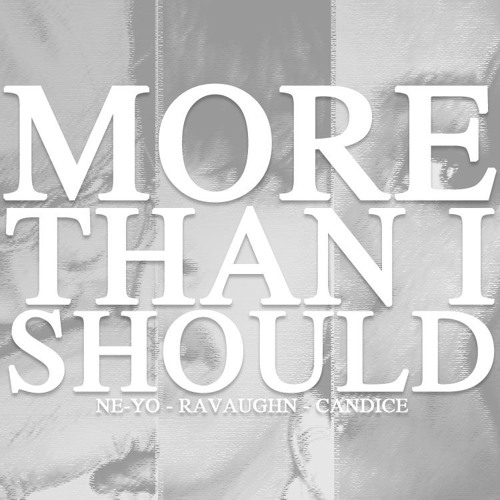 Ne-Yo is back serving up bite-sized teasers of his upcoming music with his third new release in three weeks.
Following "Earn Your Love" and his take on Kendrick Lamar's "HUMBLE," the R&B gentleman debuts a surprise collaboration with two of his Compound artists, RaVaughn and Candice Boyd. The ladies join the hitmaking singer/songwriter on the dramatic, "More Than I Should: An Audio Soap Opera."
Ne-Yo kicks off the theatrical jaunt into the minds of three lovers, who have found themselves in an experimental love triangle. Singing out to his platonic girlfriend, the crooner begins to discover a deeper, romantic love connection. "Not even my lady knows me like you know me," sings Ne-Yo. "Damn, you just my homie / But I love the way you hold me down / Shouldn't be feeling how I'm feeling right now / 'Cause you got me liking you way more than I should."
RaVaughn takes the second verse from the perspective of his homegirl. "Now, I'm feeling filthy / When I didn't know her, it was something else, but now I'm feeling all guilty," she sings. "Cause she cool as hell, but I still find myself / Here, liking you way more than I should."
Candice wraps up the soap opera by playing the role of the girlfriend. "I've never been a fool, I've never been stupid," she sings. "He's feeling you and I always knew it." But, then the plot twist hits with some girl-on-girl action.
"She let me kiss it / I know we agreed not to tell / But given the circumstances, oh well," she sings. "Is it me, is it him? Tell me what's good / Because I find myself here, liking you way more than I should."
Ne-Yo shared the track by calling it "another appetizer." He added: "The only thing that matters even more than the music is the story you tell."
The singer is plotting for the release of his seventh studio album, the follow-up to 2015's Non-Fiction, which is expected to be released later this year.
Take a listen to "More Than I Should: An Audio Soap Opera" below.