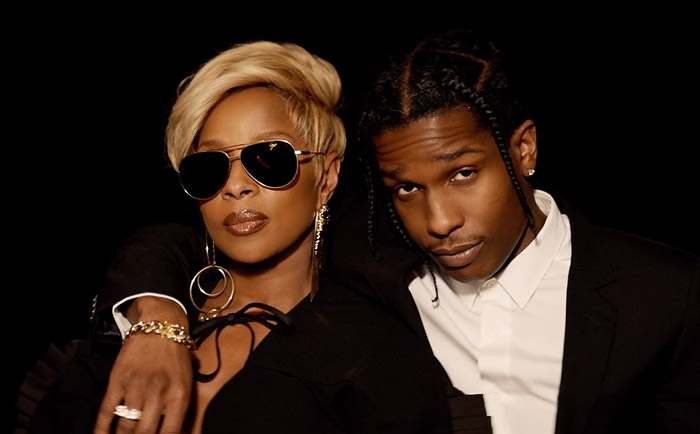 Mary J. Blige brings her compelling song "Love Yourself" to our screens with a stunning visual for the A$AP Rocky remix.
The Queen brings vintage New York to the set in diverse scenes. She opens in a dimly lit apartment sipping a drink in an armchair, and then appears in a glamorous gown while singing in front of a piano player under a large chandelier. Later, MJB shows off her gangster side rocking a red fur while singing from an old-school Lincoln Continental with suicide doors, as bodyguards stand around.
Adding his own diverse perspectives for his appearance, A$AP Rocky shows off 3 different personas of himself. Two Flacko's split rhymes back-and-forth in a room in a casual wear, before a dapper Rocky joins Mary to finish his verse.
This version of "Love Yourself" is a remix to the Kanye West-assisted original, which appears on Mary's Strength of a Woman. It follows videos for "Thick of It" and the title track.
Blige will be performing at select shows and festivals in Europe before headlining the ESSENCE Festival on July 1, and kicking off her "Strength of a Woman Tour" July 3 in Atlantic City.
Watch "Love Yourself" below!