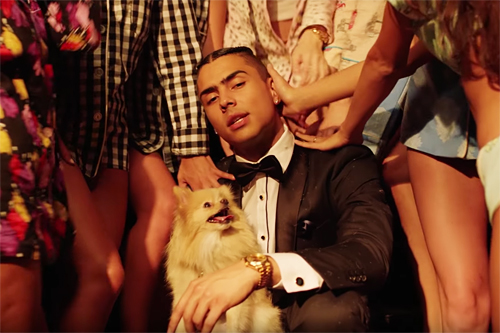 Quincy is stuntin' just like his daddy.
The triple threat singer/actor/model, recently released the visuals for his take on his father, Al B. Sure's, classic hit "Night and Day."  Appearing on his latest EP 'This Is For You,' Quincy's sexy version, "I Can Tell You," feeds into every girl's fantasy with the new video.
In the clip, Quincy puts on a one man show dressed handsomely in a tailored tux and his hair neatly braided back. Singing at a slumber party to a group of girls dressed in their pajamas, the performance is filled with tons of feathers and women throwing bras and other clothes at him throwback style.
Both Al B. Sure! and his mom, Kim Porter, are featured throughout the video as supportive parents, and genuine fans of the 25-year-old singer's re-imagined version of "Night and Day." There's even a part in the video where Quincy and Al harmonize together, which gives the song a more authentic touch.
We just have one question, is Quincy booking anymore slumber party performances? The ladies need to know!
Check out the sexy video below.
-Words by Jamila Wright