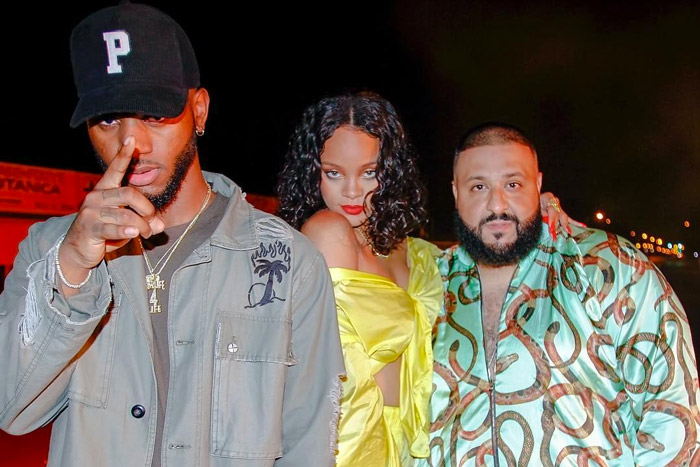 Grateful is coming, and the star-filled effort keeps getting bigger and bigger.
Following the release of his anticipated new record "To The Max" with Drake, DJ Khaled has teased another major collaboration off his 10th studio album. The #Grateful record brings together one of today's biggest young R&B stars, Bryson Tiller, and the Bad Gal herself, Rihanna!
On Tuesday (June 6), Khaled, Tiller and others shared some images from the recent video shoot in the Little Haiti neighborhood of Miami, Florida.
The song's title has not been revealed, but video clips from the shoot show that it samples Carlos Santana's smash single "Maria Maria."

"When I say those Vocals are in… trust me.. the visuals are in too," wrote Roc Nation's Lenny "KodakLens" Santiago. "I can't wait for this monster to drop!!!! Boy oh Booooy."
In his own posts about the collaboration, Tiller thanked Khaled. "thank you khaled. this guy really inspires me. #GRATEFUL," he captioned a photo of the trio, and praised Rihanna in another.
Khaled's young son Asahd is quite the charmer, getting a a kiss from Rihanna, who donned a flowy yellow number in one scene and a see-through pink blouse with colorful Balenciaga leggings in another. Meanwhile, Tiller was casual in one of his trademark dad hats.
Grateful is due out June 23.