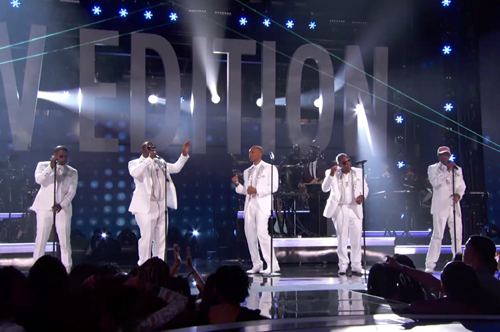 BET continued with their grand honor of New Edition on Sunday's award show.  Going well over the scheduled end time of 11:30 PM ET to do so, the iconic R&B group received an amazing tribute by the stars of The New Edition Story movie, and were presented with the Lifetime Achievement Award.
Following performance covers of some of their biggest hits by the young cast members, the whole New Edition took the stage to accept the priceless honor. "30-plus years in the music industry will chew you up and spit you out, but all six of us are standing onstage right now. What an amazing thing," said Ronnie DeVoe.
After their speeches the group quickly changed clothes and returned to the stage to perform a medley of hits, including "Mr. Telephone Man" and "Can You Stand the Rain."
Before receiving the award, Queen Latifah–who was one of the presenters admitted, "I still bump 'If It Isn't Love' in my whip. We can all agree [New Edition] transcends generations and have earned the title living legends."
If you missed it live, check out NE's performance below.