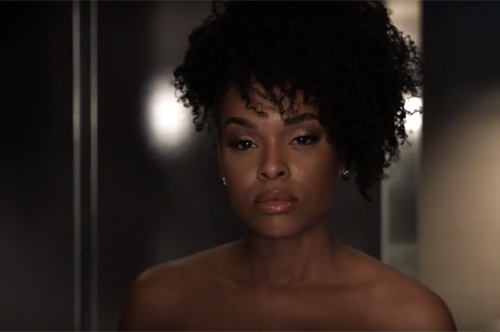 Demetria McKinney battles loves hardships in the video for her brand new song, "Is This Love."
We last heard from the singer/actress in February with the confident single "Easy," which is currently in the top 20 on Billboard's Adult R&B Songs chart. Now, she has returned with the second release off her forthcoming album, Officially Yours.
Teaming up with actor/producer Robert Christopher ('Underground,' 'Hit The Floor'), who directs and stars as her love interest, McKinney sings about the tough questions that arise after a fight with her boyfriend.
"It used to be easy for me to love / Now it seems our love just ain't enough / I've givin' everything that I can / Now I just don't understand what else do you want from me?" she sings.
Speaking about the song and video, Demetria told HelloBeautiful: "From the moment I heard 'Is This Love,' I knew it had to be part of the album. Lyrically it represented that 'place' on each side of the spectrum of love, and the harmonies and nature of it was soooo honest. Immediately, I was like 'Rob should do this with me.' I've shot photography with him and his eye is awesome and I thought it'd be interesting to move into a directorial space with him at the helm. Then I needed a love interest. I literally called him and asked him to be my boyfriend!!!!! Lol! He was like 'huh'?! I explained the song and we each came with the same ideas for the visual so everything just lined up so perfectly. The song demands the ear, the video demands the eye, so hopefully it'll spark some conversation between couples in the good and bad of love."
Demetria McKinney is prepping for the release of her album Officially Yours, which is currently due out this summer. Check out the emotional video below.