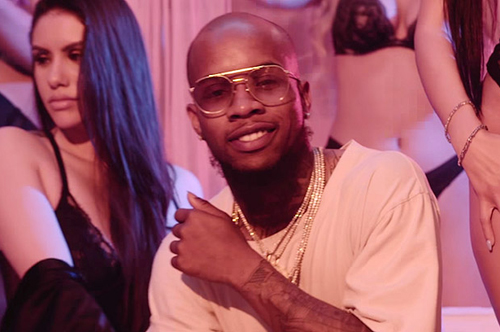 If you haven't caught on by now, Tory Lanez stays lit!
The visuals for the singer/rapper's new song "Loud Pack" featuring NYC rapper Dave East, is the ultimate party. Surrounded by beautiful women in sexy little outfits, the two share how their love for the ladies and getting high is one in the same.
"Keep you right beside me like the Loud Pack / Party with your friends, bring them to the crib," he sings throughout the video. "It's all cool with me, I got the Loud Pack." Dave East adds some braggadocios confidence to the track with his verse, "Got two bitches and they smoking now, we ain't got no droughtb/ I can show you what this dough about, I woke up on a cloud."
Co-directed and co-colored by Tory himself, alongside Mid Jordan, the visual is just as much of a vibe as the song. In addition to his direction on the video, he also edited the entire thing by himself. The man literally is a jack of all trades!
Lanez is currently on the "Nobody's Safe Tour" with Future through June 30, when it ends in Las Vegas. The sophomore follow-up to his debut album, I Told You is expected to come this year.
Check out the video for "Loud Pack" below.
-Words by Jamila Wright