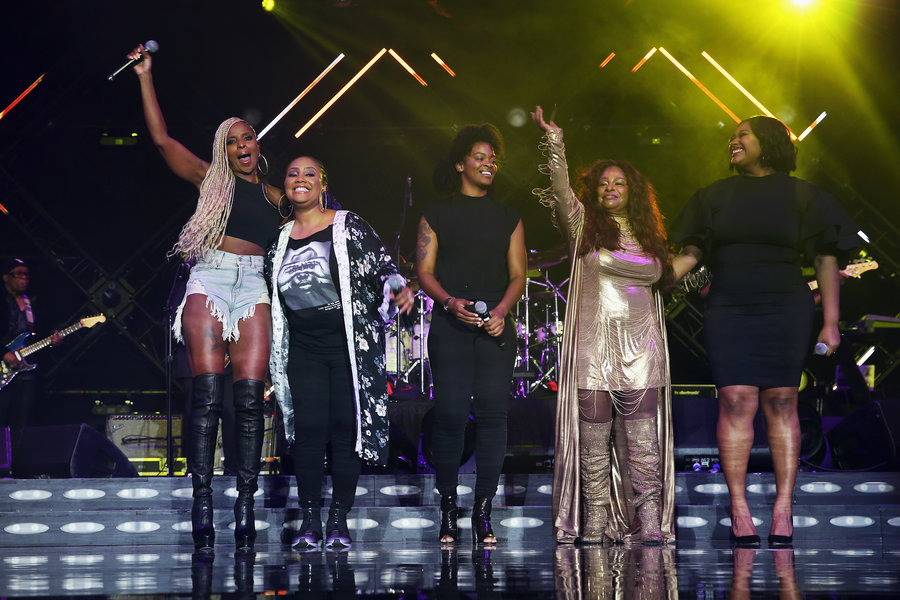 When it was announced that Mary J. Blige would be curating the first ever "Ladies Night" concert evening at this year's ESSENCE Festival, it was inevitable that audience members would be witnessing some of the best female voices in music.
Gathering together an amazing line-up of SANGERS for the special Saturday night show at the Superdome in New Orleans, attendees were not only blessed with outstanding solo performances, but a special surprise sing-off!
During Chaka Khan's solo set on the main stage, the R&B icon treated the crowd to one of the most memorable moments of the weekend. While performing the final song in her set, "I'm Every Woman" — and as the crowd sang along — Jazmine Sullivan walked out joining Khan on stage.
The Superdome cheered, but they weren't even prepared for what would happen next. Jazmine helped on the second verse, but then Mary J. Blige, Lalah Hathaway, and Ari Lennox walked out for the chorus!
After singing together, Khan encouraged each woman to offer a solo. Hathaway and Sullivan did classic jazz scats, Lennox sang a beautiful melody, and Blige belted out some soulful vocal runs.
Watch the footage below!
Shout to ESSENCE & YeahImFamous.
(Photo by Bennett Raglin / Getty Images)