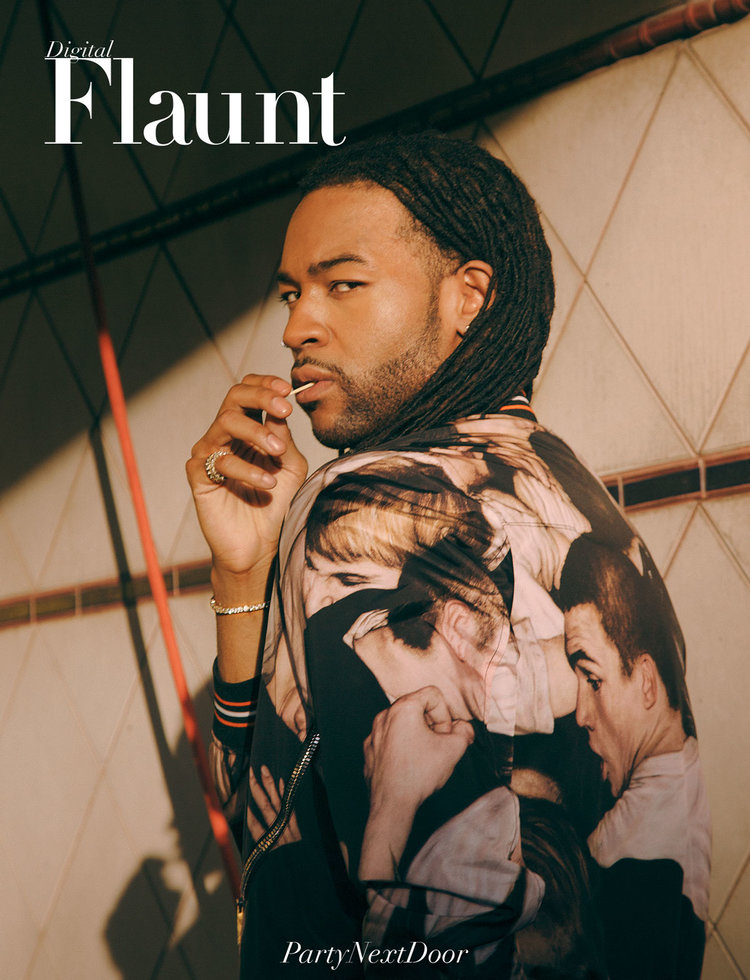 Curious about the mind and fashion choices of PARTYNEXTDOOR? Well, the often elusive hitmaker has landed a feature on Flaunt magazine's latest digital cover.
The OVO singer-songwriter got draped in high-end labels for the special photoshoot, which Flaunt shared with a grainy behind-the-scenes visual soundtracked by his recent single, "Freak In You."
Showing off his model potential, PND rocked luxury looks by brands likes Versace, Saint Laurent, Dior, Diesel and more. Instead of a traditional interview, Flaunt threw a Q&A session at Party using fan e-mails. The first, coming from an obsessed fan who asked him about mind control.
Further questions included his future plans, fashion choices, energy, artistic deviance and more. Last month, PND released his COLOURS 2 EP, and recently teased upcoming collaborations with Kanye West, Ne-Yo, and T-Pain.
Check out excerpts from the new interview, along with photos and his video shoot below.

ON MIND CONTROL: "Is music capable of mind control? Definitely, it's how you sell shoes, it's how you sell magazines, it's how you sell clothes, it's what wakes you up, it's what alerts you that someone is calling your phone. Music is used & justified to be the tick that let's you know a commercial break is about to come on. You get the point. When I think of the future, what do I think of? Family & Gods work & my work ethic & creating a Joyful future. What am I working on? What's next? On the mission to Greatness. To continue to inspire all of music aka mind control, remember lol."
ON FASHION CHOICES: "I'm currently in a hooded robe, Gucci slides with my hair down. It's a work fit. Tomorrow I have an event…I'll most likely be in Vans and everything above will be dramatic and over priced but that's what I like. I guess my style is whatever I personally like… I don't have to be anybody but me, and you can't be party if you're not comfortable, and I'm always gunna be me."
ON ARTISTIC DEVIANCE: "Artistic deviance is doing what you want. I kind of knowingly set myself up for that by telling everyone to call me Party. It'll forever be my alibi to do as I please, as long as I continue to be an artist."
(Photos by Ibra Ake for Flaunt)