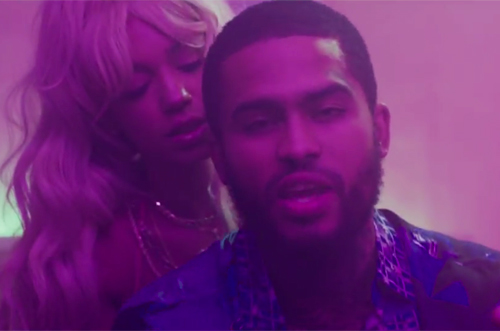 Welp, it's definitely #FreakyFriday y'all.
In her most provocative visual yet, rising singer Paloma Ford fulfills fantasies with rapper Dave East in the freak video for "Waves."
The two catch each others eye outside the Pink Motel before Ford portrays a stripper. She seduces the cameras showing off her curvaceous figure while pole dancing in a gentleman's club.
"I just want to lick you, taste you, make love to you babe / Kiss you, f**k you, surf you, ride your wave," she sings.
Dave East chills in his motel room before Paloma shows up for an erotic scene straight out of a sensual soft-core porn.
"I made 'Waves' one night when I was excited for my man to get off the road listening to Janet Jackson's song 'Would You Mind' off of her album The Velvet Rope," Ford told Complex. "I loved the way Janet could make a song that was forward in conversation yet soft and sensual. I wanted to emulate that feeling."
Dave East gave his props to Ford for "Waves," explaining, "It was really dope working with Paloma on this project, her vision and vibe is unmatched in the industry. It was a pleasure to be a part of this production and it gave me the opportunity to really step outside the box and try something new."
Check out the super sexy video below.