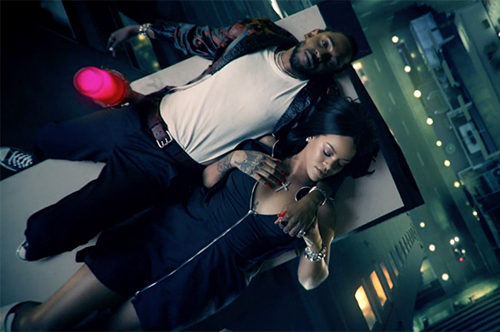 Kendrick Lamar continues to deliver outstanding visuals off his acclaimed new album, DAMN. Surprising fans on Friday (July 28), the rap superstar premiered the anticipated video for "LOYALTY" featuring Rihanna.
The duo join forces in a homage to a Bonnie and Clyde type of couple in the symbolic Dave Meyers and the little homies-directed clip.
After a curious opening scene where Kendrick is seen blindfolded and surrounded by scantily clad women in a red room, the two lovers appear to be running a scam. Approaching a man in a fancy BMW i8, RiRi manages to get him outside and then Kung Fu Kenny proves that his fight training has paid off. K-Dot and RiRi steal the whip and eventually wreck it in a surprising accident.
There are stunning views of Los Angeles throughout the cinematic clip, including one of Lamar and Rihanna on a rooftop. "Trust me," Kendrick tells his co-star, before holding on to her while she daringly hangs off the side of a building. Later, the duo snuggles up on the edge of the building while overlooking the night's stars.
Check out the video below.