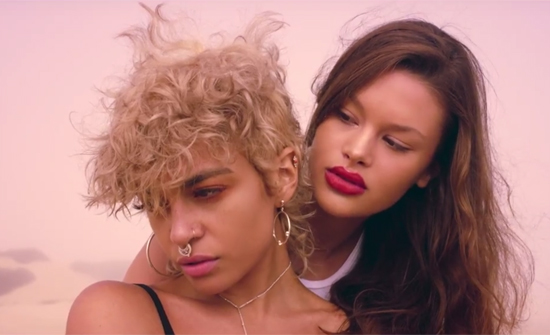 Rising Los Angeles based singer, QUIÑ releases a scintillating video for her sultry new single "Sticky Situation" featuring Syd (The Internet). The Gerard Bush & Christopher Renz-directed visuals are a sexually woozy visualization of the delightful electro-soul track, produced by Krys$hun.
In the video, QUIÑ and her female lover prance and lounge on desert sands escaping their daily lives. In another completely opposite scene, shot in black-and-white, the ladies get intimate in a laundry room.
Speaking to The FADER, QUIÑ had this to say about the making of the track: "I got together with Syd at her crib and we kicked it, played some beats, and this ended up being the mood. So, you know a sticky situation when you taste one. A bitter sweet now and later type of love. It's a flavor, it can be yummy, but it won't last long… like bubble gum lol."
"Sticky Situation" is taken off QUIÑ's upcoming sophomore EP, DreamGirl, which will be released this fall. The 5-track project is the follow-up to the singer's 2016 debut project, GALACTICA, and includes features from Syd, 6LACK and more.
Check out the video below.