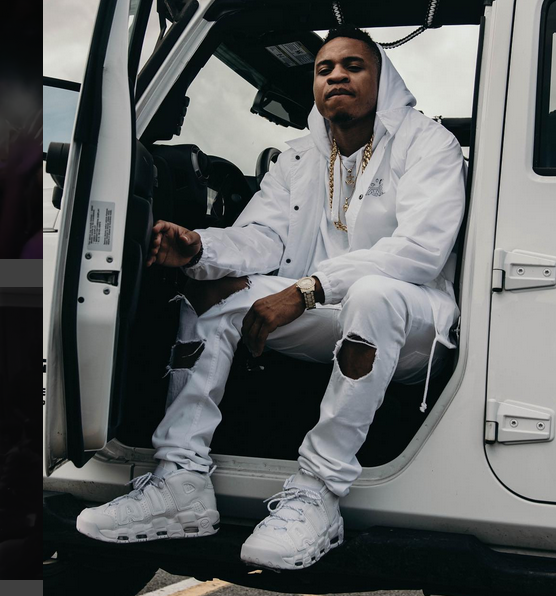 Rotimi is a household name in the making!
You might know him as Dre from "Power," or as a charismatic frat brother in Netflix's 'Burning Sands," but the multi-talented rising star is much more than just the characters he plays on screen.
As a person, he's hilarious, smart, and honest. As a musical artist, he's raw, vulnerable, and a whole lot of fun. With the release of his brand new EP Jeep Music Vol. 1, we get to see all the sides of who Rotimi actually is and why his music most definitely should be on your radar.
In an exclusive interview with ThisisRnB's Jamila Wright, the singer/actor talks about what makes Jeep Music so important to him, why vulnerability is the key to success in all of his artistry, and why you will love his music just as much as you love his acting capabilities.
With access to greats like 50 Cent and Jamie Foxx to help guide him through his career, the self-proclaimed "Sexy Nigerian Butterscotch" is well on his way to being a well-known star.
Check out the interview below.
________________________________________
THSISRNB: For people that haven't had the pleasure of experiencing your music yet, how would you describe what they can expect from you as a musical artist apart from being Dre on Power?
R: I think as a musician, you just get real life stories and passion and relatable topics. And my voice is soulful, but it can also turn into a little Hip Hop-ish, but at the same time it has the vibe of an African sound too. But what I really want to do with my music is make people feel like they're not alone with what they feel. You know it's very, very relatable.
In an era where much of mainstream R&B is still on the trap-soul vibe, what do you think you bring different to R&B that you think makes you stand out amongst everyone else?
I think it's just the versatility… that you'll get an Afro-beat, an authentic Afro-beat type of sound and then you'll get a really soulful record, and then you'll get something that just pulls at your heart strings, and then you'll get a falsetto. I think the versatility in my voice is really cool because not a lot of people really sing anymore, or like to tell stories through melodies anymore. Everything is just so candy cut instead of being vulnerable. So I think with my music you'll feel the vulnerability in my voice and you'll feel the vulnerability in my texture.
Let's talk about 'Jeep Music Vol.1.' I heard you say that it's all about your ex-girlfriend. Did she drive a Jeep and was it white like on the cover art?
Yes, yes she did. Yeah, exactly a white Jeep and we were together for 4-5 years. It was a time capsule, 'cause it started when I was 19 with her and all the way up to when I started Power. It was one of those things where some things happen so fast. Where my career, life, money and women and this and that [were obstacles for us]. And even her, with me just not being there, and her doing things as well. So it was just ups and downs, and the truth of dating someone who goes from nothing to "something". It was just ups and downs really, and I wanted to make it relatable, so that someone could say I felt the same way at some point.
Let's talk about some of the tracks. Can you tell me more about "Living Foul"?
"Living Foul" was a dark, really dark time. It was when I just found out, while filming a movie and being focused on work, she was back home doing her thing. She was playing games and doing things. And I couldn't really get mad at it because I also was not really invested in the relationship at that time. I just had to hit up my mans and tell him, "She out here living foul, kid." It started something in me. You know how when it sucks so bad, it hurts. That feeling just turned into a really good record.
And now to tell you what happened… I moved out and moved away. The calls became text messages. It was just a conversation between me and my boy. And the song came about that way. You don't really hear men say that they got played or cheated on and stuff like that. So again, I just wanted to give a different perspective and that's how living foul came about.
And what about "Want More"? How'd you hook up with Kranium for that one?
So "Want More" is the way that we start the project. It's actually from how we met where, I'd taken her from a bad relationship. I didn't want to say you should leave your man, but if you want more than what you're dealing with, then come mess with a real one. And then musically, I wanted to do an Afro-beat type of vibe and my man Keyz and Ayo in Atlanta just kinda supplied me with that feel. And the hook came about easy, then I did my verse. Two days later my manager, who knew I wanted to get someone super authentic and really had dope melodies, knew we needed to get Kranium and that he'd do a dope feature on it.
That song is going crazy at the parties now!
Oh really?!
Yeah!
It's such a blessing man. You pray that one day you catch one of those feel good records as an artist. You know.
And one more song. How about "Right Here"? How did you come up with that?
So "Right Here" was when I just got on to Power. I had just went to London with 50 [Cent] and he had just basically shown me the world, shown me all kinds of things. And then it was just like let me go back home. This was the time when me and my ex were in the "friends with benefits" type of stage. And that's not really good when you actually have a past with somebody because feelings are still attached. So I wanted to write a record that made it feel like, "Listen, let's just enjoy the moment and don't worry about anything else outside of this moment. I'm right here, you're right here. Let's enjoy this" It [the record] felt like a lot of tensions and feeling subdued and submerged. So I thought, let me just write about how that feels, and that's how "Right Here" came about.
If you don't mind me asking, what did you learn from that relationship that you can apply to new relationships and your life now?
That's a great question, no one's asked me that. I think what I've learned is that honesty and being true to how you feel and what you want will always prevail. Because when you start bullshittin' and doing all this stuff, that's when it gets shaky. If you don't like something, you don't like it. If you love something, let them know you love it. If you're afraid of something, let them know and be true. Because if you really invest in somebody, and spend so much time with them, then you shouldn't hold back anything.
Do you write all of your own songs typically, or do you have a team that you work with? How do you get those creative juices flowing?
I have a team, but I tell them exactly what I want to speak on. Even for volume 2 right now, I just got to Vegas and I'm already thinking about what am I going to write about? What am I going to talk about? Coming up with just concepts… Then I bring it to the team and we just figure out together how we can make it sound melodic. So I basically tell the story, and then we dissect it and decide this will sound cool here and da da da… So it's just a conversation between men. It was cool watching Jay-Z's "Footnotes for 4:44" where he had a round table of just influential men all speaking, and my songs come about kinda in that type of vibe.
You have an amazing knack of really getting people to feel the emotions that you're trying to convey in both your acting and singing, but especially in your music. What helps you tap into that space where you feel you can comfortably share how you feel?
I live in the vulnerability, man. What separates a good actor from a great actor is them being able to be vulnerable—live in the feel, in the moment. I just try to channel that. One thing that Jamie Foxx told me is that everything that is real is already inside of you. We, in this society, hide things and run away from things, and get insecure. But the pure source of us always there. So I choose to live in it. If I'm gonna talk about being hurt, then I'm going to live in that moment. If I'm going to act and play hurt, then I'm going to live in that moment—in what I felt before. So you know, it's just truth in everything. And it took me some time to get there. To say, yeah I always want to be truthful in what I do and how I convey myself. But it's all about just truth.
Correct me if I'm wrong but I think your last project was, 'Summer Bangerz' and before that it was 'Royal Wednesday.'  What can you say about your progression as an artist over those projects?
I think now, I'm just really living it and I'm talking my truth. Dealing with 50 [Cent], you know, he just said be real. Say what you've been through. Like how I went from 19 to 24, 25 with my ex, to me now as a new celebrity, with a new light and handling this lifestyle. And how I think about her sometimes, and how I want to enjoy myself. To how I deal with new friends and how I deal with fake friends. Everything. I want my music to be a journal of my life, so that's how I'm approaching it now. From different projects where you could say this stuff is a fad. Where I might look and see this artist did some throwback stuff and I might try it. Now it's like if I hear something and the beat is just empty, and I just want to talk, that's what I feel. So that's where I'm at, at this point.
I know when you were a teenager you were in a group with Jay-Z's nephew and Hov would give you guys advice. Looking back, what did that experience mean to you and how did it help you grow as an artist? Was there any specific advice that you still use today?
Well he just gave me the confidence as a young artist. It's nothing like hearing the greatest say that you got something, that you got, like, the juice. [Hearing something like that] is gonna make you say, "Well okay I want to continue on this path, and I believe it that okay I know I have a future in this business."
We recently saw you in Justine Skye's new video for "Back For More." How was that? How'd you end up cliquing up with Justine for it?
Well me and Justine have been friends for a couple of years. It just made sense because she's beginning to get into the acting thing and she wanted to a do a video where it was just more about real life. So you know we're friends, so when her team made the call, I said, "Of course, I'd love to do it." She's super talented and she's very beautiful and the vibe was good. So you know, I was just looking out for a friend.
How has it been on tour with August Alsina and Tone Stith? Are you enjoying the tour grind?
The tour life is just a blessing. I dreamed about performing at some of these places. I've seen shows at a couple House of Blues' in Chicago and Cleveland, and always thought I would love to be up on those stages. And now we're performing at sold out House of Blues'. It's just really a testament to God and the hard work that I put in because I put in years and years and years and years, just staying true and not giving up. And being here on my first nation wide tour, and being received the way I'm being received is just really dope.
Before I let you go, you have to tell me about how you came up with 'Sexy Nigerian Butterscotch'?
Well you know some things just happen naturally, I just have to do it sometimes (in his best Nigerian accent). I don't know man… Just again, I'm realizing that as I continue to grow in this industry, the growth and how people connect to me will be through my personality. And I had to be true to myself. You know before, when you're a young artist or a young actor, you try to find yourself asking, "What if I do it like this person or that person?" But then it's like yo, just be yourself. Be you. So these are things that I say around my friends, (turns the Nigerian accent back on) "Uh huh, Sexy Nigerian Butterscotch is in the building now!" So I just took it to social media, and the way the fans have reacted to it is lit. It's really cool to see how people have just gravitated towards it.
What can the fans expect from Rotimi for the rest of 2017, and next year?
Truth, and honesty. Great music. Good energy. I definitely want to do different movies, and stuff like that. The sky's the limit and we're literally just cracking the surface.
-Interview by Jamila Wright
Rotimi's Jeep Music Vol. 1 is available now on all digital music platforms.