It's know doubt about it that the UK is glowing with strong R&B talent. London's Eve-Yasmine is an upcoming example of that, dropping the visual for her latest single "Glow Up." The British songstress wrote the track while visiting Los Angeles, and said her goal was to create a feel good track, which she accomplished.
Eve-Yasmine puts her personal "Glow Up" on display right off the top, walking in camera view with a unique get up. Then she transitions to a neon lights-fitted, retro type setting donning different outfits. The video, directed by Mal Visuals, was shot in East London at the colorful "God's Own Junkyard," a popular set for movie productions.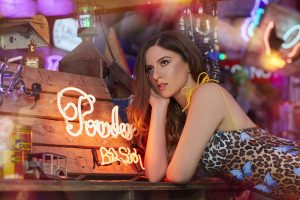 In the song, she sings: "Sometimes we flow / Sometimes we grow / Sometimes we glow / Glowwwwww up."
Eve-Yasmine grew up in London and has British, North African and Spanish descent. She's a singer, songwriter with a style that infuses soul, R&B, and pop.
Check out Eve-Yasmine's "Glow Up" below: