Your new favorite artist could be coming out of Germany. Off the heels of two banging singles, Berlin based J.Lamotta announces the release of her EP Brand New Choice via Jakarta Records. The Israeli/Moroccan artist and producer dazzles on the project with a futuristic RnB sound utilizing synths and contemporary rhythms.
The EP drops coming off strong momentum from her two recent singles "Can't Refuse" and "Hope So." Both tracks come with stunning and artistically creative visuals. The entire project follows her previous focus on lyrics and personal delivery as she divulges her life experiences.
"Life is a matter of choices and when things got complicated, I found myself swimming in a sea of questions," she said.
"I understand that every butterfly oscillation in a distant forest has an effect on us, so surely our choices and actions, too. Brand New Choice was a safe zone for me to express all my questions and the things I didn't understand, and by creating it, I made my brand new choice."
The release of Brand New Choice also celebrates her special connection to Japan, where she has garnered a loyal fan base and recorded the songs. The EP follows the organic sound of her 2019 retro band album Suzume.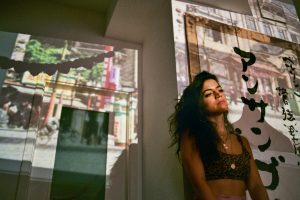 Before landing on her sweet RnB sound, J.Lamotta went through blues, jazz, hip-hop, soul, self-produced beat making. Born in Tel Aviv, her aesthetic and choice of style are influenced by her Moroccan heritage. Her music draws inspiration from music greats Lauryn Hill, J Dilla, Erykah Badu, Aaliyah, and TLC. She blends their style while making her own unique and compelling sound.
Stream the full Brand New Choice EP from J.Lamotta below: