GRAMMY® Award-winning singer, prolific songwriter, producer, and actor Leon Thomas joins with singer-songwriter, and record producer Ty Dolla $ign for his latest single "Love Jones."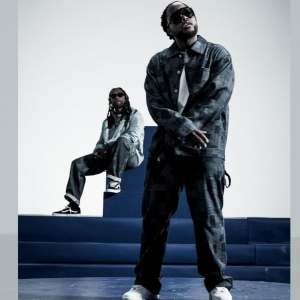 "Love Jones" has a smooth sexy soulful sound, as it vibes out with Thomas's delivering computerized vocals offering up that perfect slow jam "quiet storm"midnight lovemaking sessions, accompanied by $ign flawless accompaniment.  This song is a definite mood-setter one you'll keep on repeat!
Fans are loving this song as one YouTubers write "This is so beautiful," and another " I can not stop replaying this song!!

️, "This joint is dope! keep up the great work Leon! Keep inspiring the people! Let's go fam!


," "Another hit Leon! and with the great Ty $ maaaannnn this is smooth!," "This is amazing




."  And we couldn't agree more! 
Via a  press release, Thomas says, "Love Jones" has two meanings. "The first is about dating a girl in Hollywood who's got it together. You fall in love with being inspired by someone on a level," he explains. "The second is an ode to the city of Los Angeles. I wanted to find a way to tie in my love for the city I've been living in for the last 13 years and my love for the women that find their success here."
The song is the second for Thomas' this year released under $ign EZMNY Records joint venture with  Motown Records.
Take a listen to this smooth sexy song by Thomas and $ign "Love Jones" here and check out the visualizer below.


About Leon Thomas
From writing and producing on #1 albums with chart-breaking artists to starring in hit television series, GRAMMY® Award-winning singer, songwriter, producer, and actor Leon Thomas has become one of the most watched multi-hyphenate talents in the entertainment industry today. He has written and produced with the likes of Post Malone, Ariana Grande, Kehlani, J. Cole, Rick Ross, and more, and won a Grammy for writing credits on Babyface and Toni Braxton's 2014 joint album Love, Marriage & Divorce. In 2021, Leon found himself contributing his writing and production skills to Drake's global chart-topping album Certified Lover Boy on "Pipe Down," "Love All" [feat. JAY-Z], and "In the Bible" [feat. Lil Durk and Giveon]. Born in Brooklyn and raised by his vocalist mother, opera-singing grandfather, and stepfather who played guitar for B.B. King, Thomas' musical career began early. He appeared as Young Simba on Broadway's The Lion King at 10 years old and began working with Nickelodeon at 13, voicing The Backyardigans character Tyrone and starring in Victorious for the show's entire run. In 2018, Leon released his debut EP Genesis to critical acclaim and is now returning with new music under Ty Dolla $ign's EZMNY Records, a joint venture with Motown Records. Leon's latest singles–"Love Jones" feat. Ty Dolla $ign and "X-Rated" feat. Benny The Butcher–pave the way for his highly anticipated Electric Dusk album, due out later this year.