GRAMMY-nominated singer, songwriter, producer, and actor Leon Thomas releases a new, emotion-filled single entitled "Breaking Point" via EZMY Records/Motown Records. 
As co-writer of the track, Thomas beautifully elicits sincere and poignant passion pulling at our heartstrings. Vocally evoking fragility and vulnerability lifting the relationship and his love for someone way beyond the breaking point. Melodically the beat follows seamlessly along with the lyrics of the track storyline.
"…I can't turn down the noise / you are my only choice…/ they told me love was fragile/ they told me love was breakable/ I thought that I could handle/ but that is still debatable/ I thought this was for me/ but it's feeling impossible/ breaking point/breaking point…"
"Breaking Point" is filled with introspection and self-realization that recognizes when the relationship pendulum begins to swing far from comfort and center. Acknowledging when one's own heart, mind, and feelings need to be nourished and valued. It's perhaps the point of no return.
Thomas shares the meaning behind the song saying, "When we're at a crossroads, it's important to have the courage to follow the path that needs to be taken despite the flood of conflicting emotions. Love is fragile, and sometimes nourishing a relationship is the toughest challenge."
"Breaking Point" is already catching fire as it premiered and featured today in the latest 'Beats by Dre' spot starring NBA athlete and global icon LeBron James and his son Bronny James. The heartwarming commercial highlights an unbreakable bond between father and son. Watch the Beats by Dre spot HERE.
The track "Breaking Point" will certainly top the charts, and will be played on repeat as he gives us food for thought, something to marinate on.
Make sure to join us as we catch up on the latest with Leon Thomas only on ThisIsRnB's Instagram Live Thursday 12/15 @7:00pm. Click the link HERE  for more details.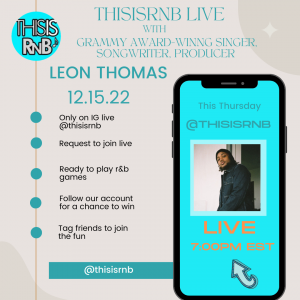 Take a listen to "Breaking Point" BELOW courtesy of EZMY Records/Motown Records. Let us know what you think.
Leon Thomas:
From writing and producing on #1 albums with chart-breaking artists to starring on hit television series, singer, songwriter, producer, and actor Leon Thomas has become a multi-hyphenate talent to watch in the entertainment industry. He has written and produced with the likes of Post Malone, Ariana Grande, Kehlani, J. Cole, Rick Ross, and more, and received a GRAMMY Award for writing credits on Babyface and Toni Braxton's 2014 joint album Love, Marriage & Divorce. In 2021, Leon contributed his writing and production skills to Drake's global chart-topping album Certified Lover Boy on "Pipe Down," "Love All" [feat. JAY-Z], and "In the Bible" [feat. Lil Durk and Giveon]. Born in Brooklyn and raised by his vocalist mother, opera-singing grandfather, and stepfather who played guitar for B.B. King, Thomas' musical career began early. He appeared as Young Simba on Broadway's The Lion King at 10 years old, began working with Nickelodeon at 13–most notably starring in Victorious–and later appeared in the HBO series Insecure. In 2018, Leon released his debut EP Genesis to critical acclaim and earned a nomination for Best New Artist at the 2018 Soul Train Awards. In 2022, the burgeoning artist returned with new music under Ty Dolla $ign's EZMNY Records, a joint venture with Motown Records. Leon's latest singles "Breaking Point," "Love Jones" [feat. Ty Dolla $ign] and "X-Rated" [feat. Benny The Butcher] pave the way for his highly anticipated Electric Dusk album.