Today (March 7), multi-award-winning superstar, actress, and talk-show host, Mary J. Blige revealed the first copy of her debut children's book "Mary Can!"
The multi-talented Blige is having a banner year with all she has going on; being a talented actress, host of her own talk show 'The Wine Down,"  and kicking off her 2nd annual"Strength Of A Women" tour,  and now, a newly minted children's book author!
The new author in a video posted on her Instagram account says "I'm so excited about 'Mary Can! "I almost want to cry because it's funny how you can go through so much hell, and it can turn into someone else's heaven. This book is dedicated to little kids all over the world that feel like they can't. Remember, I said 'Mary Can!' and you can too. It was inspired [by] a real part of my life. It feels unreal opening the first copy of my picture book! This is so personal for me."
Speaking on the book  "Mary Can!" illustrated by Ezra Keats Award Winner, Ashleigh Corrin Blige says "is an inspirational and motivating story about a young girl who proves that anyone can make their dreams come true if they just believe in themselves."
"Mary Can!" is available for pre-order today @harperkids
Blige is also kicking off her 2nd annual "Strength Of A Woman Festival and Summit" in Atlanta beginning May 11 and runs through May 14th.  Tickets are on sale now, click here to purchase.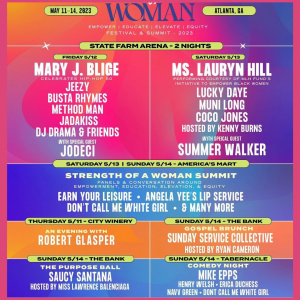 Make sure to tune into Bilge'new talk show "The Wine Down" on BET network where she raises a toast to her celebrity friends as they join her for casual chats and deep conversations about the joys and challenges of love and everyday life.