The Queen of Hip-Hop Soul, Grammy, and Emmy-winning artist, and Executive producer Mary J. Blige is set to deliver two new original movies inspired by her best-selling songs "Real Love" and "Strength Of A Woman."
Announced today April 25, 2023 via official press release, Blige will produce alongside John and Jordan Davis two original movies for Lifetime A&E.  The movies will premiere back-to-back Saturdays beginning June 10th @8p/7c and stars Ajiona Alexus  (Empire, 13 Reasons) and DA'Vinchi (BMF, All American)  with Princess Davis, Austin Anozie, Milla Tesfazgi, Shiranie Hass, Garfield Wilson, and Hamza Fouad rounding out the cast and portrays the highs and lows of young Black Love.
According to the release, the story of Kendra and Ben continues in Mary J. Blige's Strength of a Woman, jumping ahead more than 15 years. Now a successful photographer, Kendra finds herself in a failing marriage and must reckon with the decisions she made for the life she thought she wanted. When Ben unexpectedly comes back into her life, she is forced to a crisis point and must dig deep to find the strength to take control of her life and accept the love Ben may be offering again.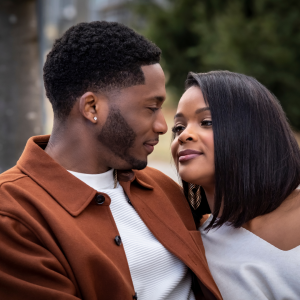 In support of the content, Lifetime has partnered with Take Back The Night Foundation®, an international event and non-profit organization with the mission ending all forms of sexual violence, including sexual assault, sexual abuse, trafficking, stalking, gender harassment, and relationship violence, and to support survivors in their healing journeys.
Blige also serves as an executive producer on both original films through her own production banner, Blue Butterfly with Ashaunna K. Ayars and Q. Nicole Jackson as co-producers. Blige has a proven track record of resonating with Lifetime's audiences, having previously executive produced Lifetime's top-rated original movie of 2020, The Clark Sisters: The First Ladies of Gospel alongside fellow EPs Queen Latifah and Missy Elliott. In 2020, The Clark Sisters reached more than 13.9 million Total Viewers1 and was 2020's #1 original movie on cable.2 Blige also starred as Dr. Betty Shabazz in her first movie role in the Lifetime civil rights biopic Betty & Coretta, with Angela Bassett.
In addition, Mary J. Blige's Real Love and Mary J. Blige's Strength of a Woman are also produced by Front Street Pictures and are being distributed by Sony Pictures Television. Camrus Johnson directs Real Love from a script written by Sonja Warfield and Rachel Ingram, and Shari Lynette Carpenter directs Strength of a Woman from a script written by Ingram.
Make sure to tune in to Lifetime and A&E Networks on June 10th and June 17th @8p/7c.
Hear as Executive Producer Mary J. Blige talks about her two movies "Real Love" and "Strength Of  A Woman" below.