R&B Soul songstress Angie Stone has released her new single "The Gym," featuring Musiq Soulchild. The track is easygoing and uses the gym and fitness as a metaphor for bending and lifting weights in the "gym" or the relationship. But Angie says, "this ain't nothing like the gym." Both Angie and Musiq's voices sound well together and the backgrounds and harmonies of the song give it that Neo Soul feel. This is Angie Stone's second release for the year. She released "Kiss You," earlier this year in February. Angie Stone will release her album, "Love Language," May 19.
Listen to "The Gym" below:
Angie Stone releases new single," The Gym" featuring Musiq Soulchild, releasing an album next month
Jodeci, SWV, and Dru Hill announce 'Summer Block Party' tour dates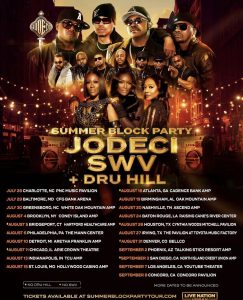 R&B Jodeci, SWV, and Dru Hill have announced their "Summer Block Party" tour dates. The North American tour will kick off July 28 in Charlotte, N.C., and will conclude Sept. 8 in Concord, Calif. Presale begins Tuesday, April 25 at 10 a.m local time and will go on sale to the public, Friday, April 28 at 10 a.m. local time.
Keke Palmer releases video for latest single, "Waiting"
Keke Palmer has released a video for her latest single"Waiting," which will be on her upcoming visual album"Big Boss." The single has a bop to it and is about a girl waiting for her man to show her the love that she needs, but he's not coming up to par-he's not reciprocating and she's not here for it. Palmer says, "I don't wanna be one of those girls/stuck in her man's world." In the video, Palmer is portrayed as an inmate, but she is breaking free from the relationship.
Look at the video for "Big Boss," below:
Ciara collabs with Lady London and Lola Brook for "Da Girls (Girls Mix)"
Ciara has collabed with rappers Lady London and Lola Brooke for the "Da Girls (Girls Mix,)" remix of her girls anthem "Da Girls." The song still has the same message- to be I-N-D-E-P-E-N-D-E-N-T. This trio says this song is for all the girls around the world who are self-made and doing it on their own. Ciara received backlash all over the internet and social media after sharing a snippet of the song in February. An accompanying video was also released with the remix.
Click below to watch the video "Da Girls (Girls Mix)":