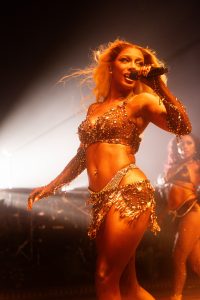 Victoria Monet performs her Jaguar Tour in Detroit
Photo Credits: Antonia Seegars of @shotsofton
Victoria Monét's Jaguar tour slinked into Detroit on Wednesday, October 25th at the Royal Oak Music Theatre,  and left it all on the floor at the jam-packed venue. Her mic was ON as she mounted the stage with the transcendent "Moment," declaring for everyone that this was their "muthaf—– moment"! The singer/songwriter proved how her years spent writing for others such as Jhene Aiko and Ariana Grande, are finally coming to fruition through her own brand of seraphic melodies and stimulating wordplay.
Accompanied by a live band and two backup dancers, she ate every note while crushing ferocious dance moves. Delays due to the pandemic were worth the wait as she performed euphoric, yet whimsical grooves such as the title track from 2020's Jaguar, the pleasurably pulsating, "Ass Like That," as well as several fan favorites from the August 2023 follow-up, Jaguar II.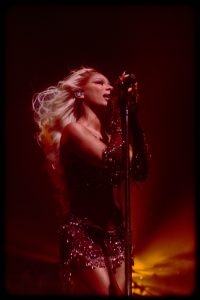 Ready to go up, she belted out the reggae-tinged "Party Girls" and noted her love for sex while under the influence on "Smoke." While perched on a stool, she lilted "Touch Me" with alluring sensuality.
It's clear why many liken the multitalented siren to Beyoncé. She enthralled the crowd with enviable vocals and stamina as she sang the sassy "Stop Askin Me 4 Shyt," and revealed her softer side with "How Does It Make You Feel," which features string arrangements from Detroit's own Maurice "Pirahnahead" Herd.
Monét showed respect for the legends who came before her by infusing dance moves reminiscent of Michael Jackson and The Supremes, noting the best soul music came out of Detroit.
She ended the magical night with "On My Mama," the addictive anthem that currently has everyone and their mama in a chokehold.
The "We Might Even Be Falling In Love" singer returns to her hometown of Sacramento, CA for the finale of The Jaguar Tour, on November 2nd.