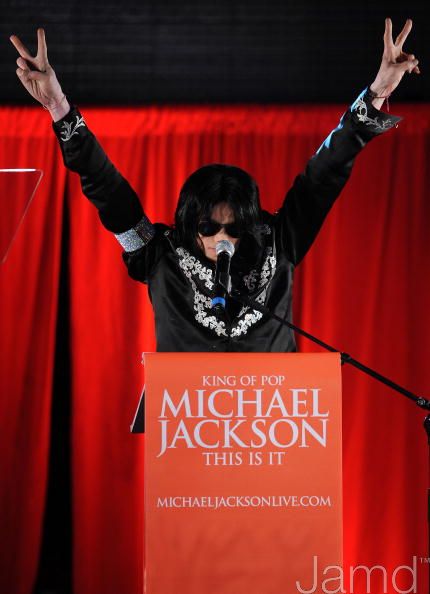 Michael Jackson has confirmed the dates for his London residency at the O2 Arena in July as fans await to see whether they will be among the first to have the opportunity to buy tickets.
After announcing the 10-date run and the opening July 8 show at the press conference last week at the O2 Arena, the nine other dates have been announced. They are billed as his last ever shows in London.
The other dates for the AEG Live-promoted shows at the 23,000-capacity venue are: July 10, 12, 14, 16, 18, 22, 24, 26, 28. Further dates are set to be confirmed if the 10 dates sell out as expected.
Fans can visit michaeljacksonlive.com or text for a chance to get access to the ticket presale, which begins 7am GMT March 11. The general sale begins 7am GMT on March 13 and tickets are priced £50 ($68.94) to £75 ($103.41).
AEG Live says there has been a huge amount of registrations from around the world, stating that the "requests for tickets from France alone would practically fill an O2." There are reports of one million registrations.
Jackson, who has returned to the US for rehearsals, is "ecstatic" at the response according to a statement.
Randy Phillips, president and CEO of AEG Live, said in a statement: "New records are being set by the minute. These shows will go down in show business history, and we at AEG Live are proud to be presenting them. It's the last chance for fans to see Michael Jackson in London, so this really is something unique and very special."
AEG Live has also struck a secondary ticketing agreement with Viagogo for the Jackson dates; the company partnered with Madonna as the official secondary ticket partner for her "Hard Candy" tour.
via Billboard.com