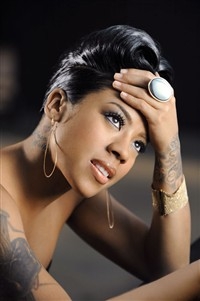 When you're hot, you have to keep working. A fact Grammy-nominated R&B star Keyshia Cole seems to understand because she's already vying for her fourth album, a biopic and two more singles to be released from the December 2008 issued album A Different Me.
Cole, currently prepping for a tour with The-Dream, Keri Hilson and Bobby Valentino, recently wrapped up the soon to be revealed video for "Trust Me" with fellow R&B songstress Monica. However, "Trust Me" is not the only single slated for release. Cole's "This Is Us" is expected to become the fourth single from A Different Me according to Billboard.
Besides keeping her music front and center through this Summer the former "Heaven Sent" singer's manager has confirmed that she will indeed release a fourth album this year!
In a statement issued Monday, Cole's manager and CEO of Imani Entertainment, Manny Halley,  said she is "working in the studio nightly on her 4th studio release, which is slated for December 2009".
via Singersroom