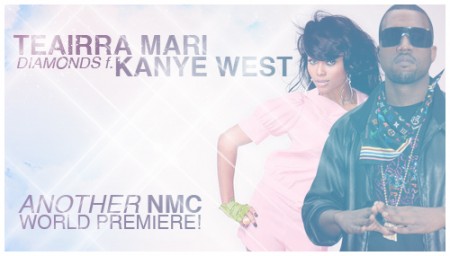 Here is a brand new record by Teairra Mari featuring Kanye West. It is titled, "Diamonds" produced by Madd Scientist. This is actually the same track that was supposed to be the third single off Christina Milian's forthcoming new album. Before she signed to The-Dream's Radio Killa label. Check it out below. Teairra's album is dropping this summer. Support the new single "Cause A Scene" featuring either Flo-Rida or Rick Ross, depending if you are listening to urban or top 40 radio, and look out for the video soon.
Teairra Mari feat. Kanye West – Diamonds
(Prod. by Madd Scientist)
Achieving pop stardom is never a walk in the park, but the road to musical success can be especially rocky for those who enter the business as young adults.  Thus, it's understandable that, after a stint as teenage "Princess of the Roc," Teairra Mari took a hiatus from the game to finish up high school without the added pressure of life in the spotlight.  During her time away, though, the fans she earned with her self-titled debut album never stopped hoping for her return—now 21 years old, Mari is finally At That Point.
Back from her three-year break with a new sound and a new label home at Fo'Reel Entertainment and Warner Bros., the singer is preparing to showcase the full extent of her artistic growth with the summer release of her sophomore album.  As we've seen on buzz single "Hunt 4 U" and its recently-released, Flo-Rida featuring follow-up, "Cause A Scene," At That Point will introduce listeners to a Teairra Mari who, despite her more mature approach to the craft, still comes with the same pop appeal that made cuts like '05's "Make Her Feel Good" chart-smashing hits.
Listen To The Interview Here,
Shout to Z