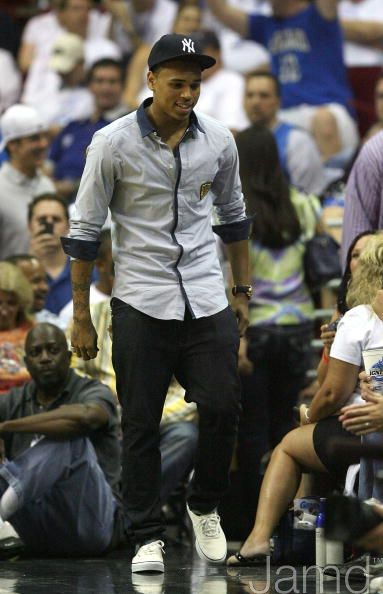 Chris Brown may be holding on to the recording artist adage that "you want to go away so your audience can miss you," but that quiet period is about to end.."He's so happy and ready for this next album to break through and make a big impact," says friend/songwriter Robert Allen.
"The direction of this album is really fun and free spirited. It's like a collage. It's not particularly just R&B," Allen tells PEOPLE.
Allen's words add gravity to rumors that Brown was stepping further away from R&B on his anticipated effort "Grafitti".  The album, Brown's third, has already been linked to both country and rock/electronica insiders, including Allen who penned a country song of sorts for Brown. Believed to be a duet, Allen told reporters (at BMI's Pop Awards) "Maybe we'll see an appearance from Carrie Underwood or someone like that".
Beyond country, Brown had previously expressed interest in working with Madonna and Coldplay.
Before "Graffiti" hits stores, Brown will have to face a Los Angeles area judge who will decide whether or not to proceed with his felony assault and making criminal threats case. Brown is due in court, as is Rihanna, June 22.
via Singersroom