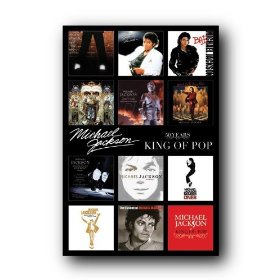 Michael Jackson will be the King of Billboard when sales figures are released Wednesday. According to preliminary reports issued by the magazine, three of Jackson's albums have moved over 100k since his untimely death Thursday, June 25.
The titles, which include "Number Ones," "The Essential Michael Jackson," and "Thriller," all sold at least 100k before Sunday night.
While Jackson's sales jump will not be reflected on the Billboard 200 albums chart, due to the albums being ineligible as catalog entries, Billboard says Jackson will dominate the catalog and overall sales charts. In comparison, last week's #1 catalog album sold 9,000 copies.
"Off the Wall," "Bad," "Dangerous" and "The Ultimate Collection" have also sold well at retail and through digital retailers such as Amazon.com. In fact, Jackson's digital sales surged to nearly 1.8 million last week.
Again, exact sales figures will be revealed Wednesday, July 1.
via Singersroom