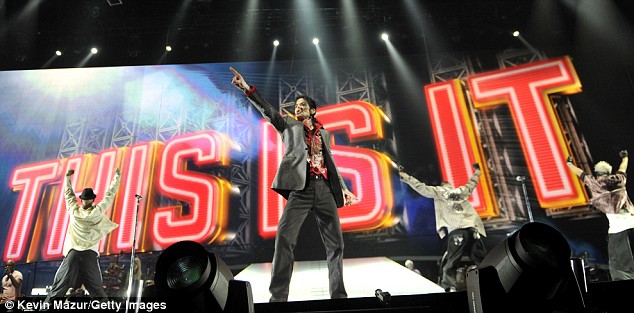 A week after Michael Jackson's death, organizers of what would have been a 50-show run at the O2 Arena in London have made significant strides straightening out what one touring executive called "the biggest mess in the history of our business."
Jackson's legal and financial affairs will be sorted out during the course of months, if not years. But AEG Live, the promoter of his London shows, isn't waiting to try to recoup its estimated $30 million-$50 million investment in what would have been the highest-grossing arena engagement.
AEG Live CEO Randy Phillips says the company is in better shape than many believe. Besides a claim on nonappearance insurance, if there is one, AEG owns video and audio footage of Jackson's rehearsals, according to its contract with the singer. "People have speculated that this is going to bankrupt our company," he says. "The truth is it isn't."
More than $85 million worth of tickets had been sold for the O2, which is operated by AEG Live parent AEG. Production costs ran between $23 million and $25 million, according to AEG, although other industry sources say the cost was closer to $30 million. And some have estimated that Jackson's advance on the shows could have been as high as $10 million-$20 million.
But Phillips says part of Jackson's advance came in the form of AEG paying certain of Jackson's obligations, as well as Jackson's housing and living arrangements. Such expenses are "100% recoupable" if insurance pays off, Phillips says.
"We had insurance in place to cover the majority of our hard costs but not lost profits," Phillips says. "There is a lot of litigation going on in terms of negotiations with vendors. I would say the number [in hard costs] is somewhere probably between $20 million [and] $25 million. It was done out of insurance brokerage Robertson Taylor, and I'm sure since it was Lloyds it was multiple carriers."
But AEG stands to lose a substantial part of its investment if its insurance policy won't come into play—and that could depend on the cause of Jackson's death. "If it was a pre-existing condition or drug- or alcohol-related, a normal cancelation policy would not cover that even if he had passed a medical exam," an insurance industry source says. The Los Angeles County coroner's office said that determining the cause of death will require further tests that will take six to eight weeks
Phillips says talk that Jackson never had a physical, as AEG said he did, is incorrect. "He absolutely, 100% had a close to five-hour physical," he says. "The carriers flew in a doctor of their choice from New York and he did an extensive battery of tests. We were obviously never privy to the actual medical reports, because this was confidential medical information between the doctor and the patient. However, we were told that he passed with flying colors."
Had Jackson performed these shows, AEG would have made significant revenue on food and beverage sales, a percentage of merchandise sales that could have totaled up to $15 million and the rental fee that AEG Live would account for to its corporate parent. Phillips declines to release terms of the deal with Jackson, but he says it was better for AEG than the 95%-5% split most superstars receive.
Phillips says AEG can still generate revenue from its audio and video footage of the rehearsals, which it owns under its contract with Jackson. "We own the intellectual property," he says. "It is our responsibility and fiduciary duty to the estate to monetize as much of these assets as we can under the original contract, because the majority of the profit would go to
the estate."
AEG is also under pressure to book the O2 for some of Jackson's dates. That's "the toughest hit," Phillips says. "We'll fill in the 2010 dates because the arena's in such demand. The truth is, July and August are the slowest months of the year in Europe, so maybe 10 of those 27 dates would have been filled anyway."
But those losses "probably [are] minuscule in comparison to the value of the intellectual property we own," Phillips says. Arrangements for a release will be made after an executor for Jackson's estate emerges. Phillips calls the video "some of the most compelling footage in the 21st century, because you're talking about a star whose light shined brighter than anything else in the universe when it comes to music."
The footage includes the Tuesday and Wednesday night rehearsals from the week of Jackson's death. "On Tuesday night he performed and gave me goose bumps," Phillips says. "It made me realize, jaded entertainment executive that I am, why I do this in the first place. I was asked if I would do this again and the answer is, 'Hell yes.' How many times in one's career are you able to touch greatness?"
Rumors are circulating that AEG could further mitigate its losses by creating a tribute show that uses Jackson's elaborate stage production, and Phillips says AEG is already receiving calls from interested artists. "We have the most breathtaking production ever created for an arena, and it's all Michael Jackson's vision as directed and executed by Kenny Ortega," he
says. "It would be some closure for fans who have nowhere to really express their emotion and are looking for a place."
The $85 million reportedly in the bank from ticket sales of more than 750,000 will go back to the public in the biggest refund program the concert business has ever seen. The large number of tickets on the resale market, through official and unofficial channels, make the process particularly complex, and perhaps expensive.
On July 1, fans who purchased tickets were directed to MichaelJacksonLive.com for information about how to receive refunds. They'll be processed by authorized ticketing agencies, including primary ticketing company Ticketmaster, U.K. reseller Viagogo and authorized O2 reseller Seatwave. In lieu of a refund, fans can receive souvenir tickets designed by Jackson and printed with a lenticular process that gives them a 3-D look.
Phillips says his next move "is to try to get the images out of my mind of that Thursday I spent at the hospital when Michael died, and telling his kids and his mom. A little healing first. But we have a bunch of tours next year and our business will go on."