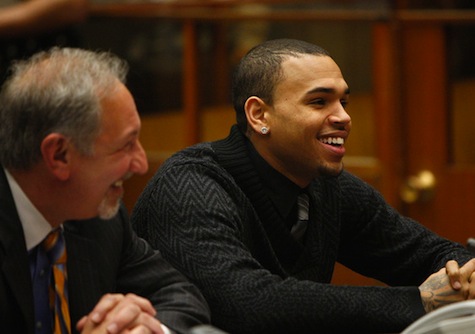 Nearly two years after his assault on Rihanna, Chris Brown appeared in a Los Angeles courtroom Friday (Jan. 28) for a progress report, where his attorney requested the removal of the restraining order against his client. Brown and his legal ace, attorney Mark Geragos, were calm and collected as Geragos told Judge Patricia Schnegg that his client has completed his 52 week domestic violence counseling and requested she remove the existing restraining order against Brown.
"It makes it difficult at award shows and such," Geragos said. Despite his three nominations, the 21-year-old star's rep recently told the AP that he was not currently scheduled to attend next month's Grammy Awards.
Judge Schnegg did not immediately grant his request but did suggest a modification with the approval of Rihanna's attorney, David Etra. The judge allowed Geragos a moment to call Etra during a brief recess but unfortunately for Brown, Etra wanted to speak with his client Rihanna, before agreeing to the modification.
The decision to modify the restraining order will be filed with the court at a later date.
As she did in November, Judge Schnegg praised the singer for staying on track with his probation and his commitment to fulfilling the conditions of his sentence. In fact, she was so pleased with his progress, the judge told Brown that he can come in "next time you're in town" instead of scheduling a future progress report hearing.
To date, Brown has completed 581 hours of community labor and his 52 week domestic violence counseling – a requirement of his August 2009 sentence. He was sentenced to serve five years probation and to spend more than 1,400 hours in "labor-oriented service" for assaulting his pop star girlfriend, Rihanna.
The judge asked for certification upon completion of the community service. He remains on probation.
[nggallery id=61]
via RadarOnline & Rap-Up