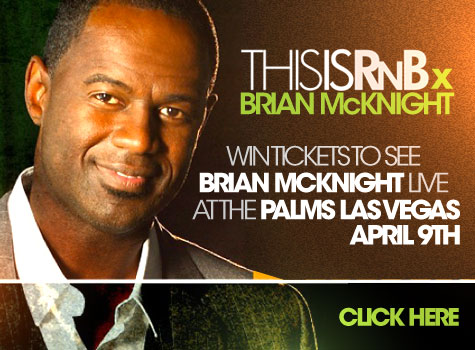 We are back with another exclusive contest for you! Contemporary R&B legend Brian McKnight will be performing live at the Pearl Theater in The Palms Resort/Casino in Las Vegas, Nevada on Saturday April 9th. We have a pair of tickets to giveaway to 1 lucky winner. Follow the jump for the contest details.
UPDATE: THE CONTEST IS OVER, CONGRATS TO THE WINNER – TESSA LEONARD
Instructions
1. We have written out lyrics below to one of Brian McKnight's classic songs. All you have to do is name the song, email your answer to contest@thisisrnb.com, with the subject Brian McKnight.
2. Leave a comment here with your favorite Brian McKnight song (not the answer).
Terms & Conditions
1. The contest starts today March 25th, and will end April 4th at 10:00 AM EST.
2. A winner will be picked by random selection of the email entries.
3. The winner will receive 2 tickets to see Brian McKnight live at the Pearl Theater in the Palms Resort/Casino on Saturday April 9th at 8pm.
4. Transportation will not be provided, so only enter if you live in or around the Nevada area, or can provide your own transportation to Las Vegas.
GOOD LUCK!!
Name This Song:
"My shattered dreams and broken heart/Are mending on the shelf/I saw you holding hands/Standing close to someone else/Now I sit all alone/Wishing all my feelings was gone/I gave my best to you…"
If you wish to buy tickets as well, you can do so Here: http://bit.ly/McKnightPalmsTix