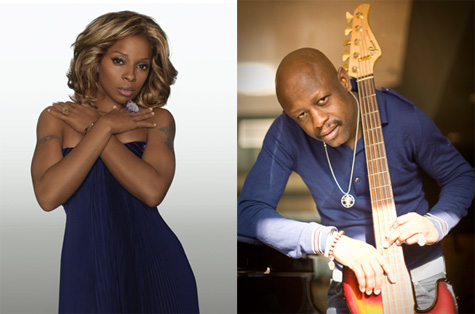 Super-producer Jerry "Wonda" Duplessis has lent his Midas touch to records for the Fugees, Whitney Houston, and Shakira. But for his next high-profile project, he's taking it back to the beginning.
The Haitian musician has a heavy hand in Mary J. Blige's 10th studio album My Life II: The Journey Continues, having already helmed the lead single "Someone to Love Me (Naked)" featuring Diddy and Lil Wayne, as well as four or five other songs including the follow-up single. While recording a sequel to the 1994 classic could be daunting, the Grammy-winning producer is teeming with excitement over what they've already laid down.

"It's like My Life, but with a 2011 sound to it," he told Rap-Up.com. "Everything is all lovely with a hard bottom, but very melodic, clean music. You know Mary, she always comes with bangers. That's why she called this one My Life II."
Wonda, who is also working with Justin Bieber, Estelle, Melanie Fiona, John Legend, and Alicia Keys on their forthcoming LPs, originally produced the beat for "Someone to Love Me" for Diddy-Dirty Money's Last Train to Paris, but passed it off to the Queen of Hip-Hop Soul after the Bad Boy mogul gave her his blessing.
"I just played the record. Mary was like, 'Hold up! That's my record!' You know those two. They're like brothers and sisters," he said. "Puff came through Platinum Sounds—that's where I'm at—and Mary's like, 'I need this record.' Puff was like, 'Yo, that's it! You want it, no problem mama. Let's go!'"
MJB decided to tack on a verse from Weezy and rename the tune to suit her mood. "The reason she called it 'Naked' was because she was like, 'I'm just going to let it out, whatever's inside of me,'" continued Wonda, who worked with Swizz Beatz on a few tracks for Mary. "That's the record, my God! Everybody's talking about it."
With My Life II landing in stores in September, Wonda is currently focused on his upcoming projects, with credits as executive producer on Musiq Soulchild's MusiqInTheMagiq and producer on Akon's forthcoming single.
–Steven J. Horowitz
via Rap-Up
This sounds exciting. Mary is consistent like the sun-rise, but I think we all would love to hear that style & sound again, updated. Patiently Waiting….