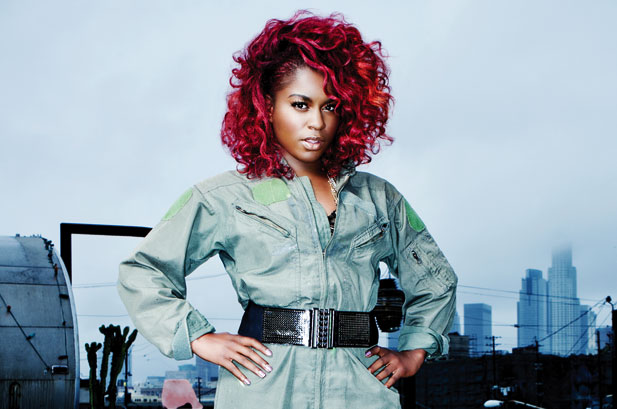 Singer/Songwriter Ester Dean is finally preparing her first solo album. "We're working on picking songs right now," she told Billboard's The Juice. The "Drop It Low" singer is shooting for a sound that suits her unique voice, which she calls "hard" and "raspy."

"Picture Mary [J. Blige] singing over Jay-Z tracks. Singing over Jay-Z beats, Kanye West beats. I want it to be grimy. It's something about having a grimy sound where it's truth be told… It's talking about something but it doesn't have to be sad. It's hard, like in your face," Ester says.
As she works on her own project, Ester will continue to write for other artists. "These people in this industry are my friends. I don't look at them as competition. I think we're all blessed to even be doing this. My race is my race. I can't ever look to the left and look to the right to see who I'm going to beat." Ester recently penned Kelly Rowland's second single, "Lay It On Me" and "I'm Dat Chick" off "Here I Am." Look our for Ester's songwriting skills on Mary J. Blige's upcoming album, "My Life II… The Journey Continues" (Oct. 4).
That humble, collaborative mentality allows her to achieve "balance," Ester tells The Juice. "If Beyoncé wants a song, I can do one, if Rihanna wants a song, I can do one, if Sean Paul wants a song, I can do one, if Britney [Spears] wants a song, if Celine Dion wants a song, I can do it because I'm never chasing them. I thank God to be able to be in the vicinity of 'em."
If Ester writes a great song and decides that someone can do it better than she can, so be it. Such was the case with Rihanna. "That girl, she knows what to do with 'S&M.' I just knew how to write i… that's not an Ester song."
Although she doesn't compare herself to anyone, Ester Dean is inspired by Missy Elliot. "I think Missy is girl empowerment. She's like 'every girl should be able to be around each other,'" Ester says of Missy Elliott. "And then making music non-sexist because she's like, 'I can come over here and ride with ya'll boys,' and that's what I'm making sure I put out. A uni-sex sound."
Along with her debut album, you can hear Ester's voice bring a character to life in the new animated movie, Ice Age 4, in which she will be joined by fellow artists Nicki Minaj, Drake, Jennifer Lopez and Queen Latifah.