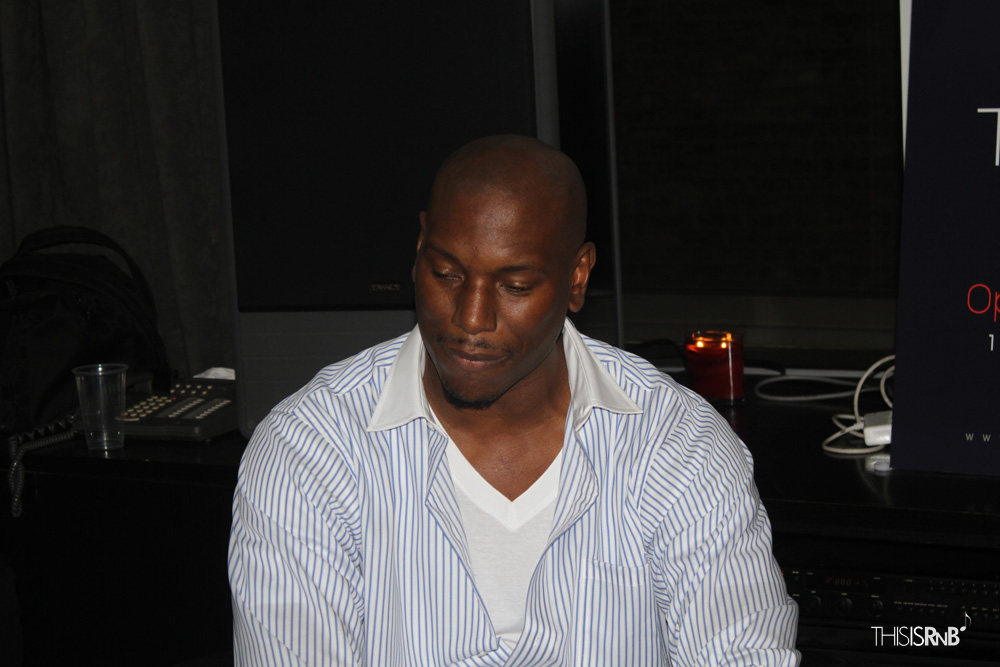 A shy Tyrese Gibson hesitated before pressing play on the first track off his new album Open Invitation (Nov. 1). The Hollywood star was nervous to play his new material for the small room of writers, bloggers and tastemakers.
It's been 9 years since he released a full R&B album (not counting the Black Ty era), and his first go at it independently, the stakes are high to deliver. In the middle of what many are saying is the stars most successful career year, 2 major motion pictures (Fast Five, Transformers 3), a top selling book on relationships, and a burgeoning hit single ("Stay"), Ty should have no reason to be nervous. But, just as many great artists put themselves out there through personal, emotional work, Tyrese is feeling like a new artist again, with a point to make, goals to accomplish and knowing he will judged heavily on it.

Inspired by a quote his mentor once told him, "If you want to make God laugh, tell him your plan," a dream he had about getting back to music, and a random month of free time. Tyrese set out to make his return to R&B music. Claiming he set up a "R&B bootcamp" of sorts at his home in California, with a group of up and coming songwriters, musicians, and producers, they literally created the whole album in 1 months time.
The album is an honorable collection of works, showcasing Tyrese's current state through strong R&B ballads ("Best Of Me," "Take Over"), catchy mid-tempos ("One Night," "I Gotta Chick") and a few club anthems ("Too Easy, "It's All On Me"). The set opens with the energetic "I'm Home" featuring Jay Rock. A fitting intro cut, and come-back statement record. Segued through a short interlude featuring a sexy female cooing for Ty at 5 AM smoothly transitions to the stars buzz track "I Gotta Chick." Already a favorite, the album version features Rick Ross and R. Kelly. An obvious sex jam "Make Love," though not original, holds it own through Tyrese's signature vocal, and will easily be a favorite among female listeners. But, a definite standout from the set is the wedding song duet with his long time friend and fellow singer Brandy.
Already considered a veteran in R&B music, the 32 year old star feels his path is more so like Benjamin Buttons. His early years were corporate controlled, and forced. He stated being jealous of Usher, wishing he released more uptempo, sexual, club songs during the time when he was really living that lifestyle. Mentioning the label was telling him what to sing, including the song "Lately" and taking him on a more adult love song path. Now, he is free to make the songs he feels comfortable in, and represent his lifestyle to date. Hence the title of his forthcoming fifth album, Open Invitation, on November 1st Tyrese will be inviting you into his world, and hopes you enjoy the Stay.